Students & faculty protest 'war criminal' Madeleine Albright commencement speech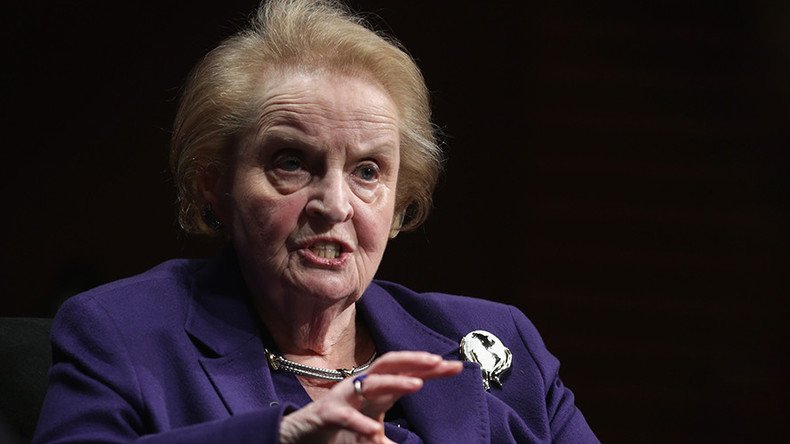 Scripps College students and faculty are protesting former US Secretary of State Madeleine Albright, saying they are outraged that a "war criminal" is headlining a graduation ceremony.
A number of staff members at the small liberal arts college have refused to sit on the same stage as the former diplomat during Saturday's ceremony as a sign of protest.
Faculty members published a letter in the college newspaper citing the reasons they are "outraged," focusing on Albright's long record as secretary of state and US ambassador to the UN, where she shaped policy that saw the US intervene in many disastrous overseas conflicts and "supported several policies that led to the deaths of millions of people."
Scripps is an all-female college with less than 2,000 students, and Albright's almost-threatening comments about there being "a special place in hell" for women who don't vote for Hillary Clinton did not sit well with students or faculty either.
"As a women's liberal arts college, we should promote the advancement of women and transgender peoples broadly and not simply emulate and celebrate those individuals who participate in US state power and wield its violence."
What the faculty members were most offended by were Albright's now infamous comments in which she argued that the deaths of more than half a million Iraqi students had been "worth it." The teachers pointed to the fact that "more Iraqis died as a result of 13 years of US-led and controlled sanctions than as a result of the 2003 US invasion and subsequent occupation of Iraq."
A deliberate decision to allow the 1994 Rwandan genocide to take place and the decision to bomb Yugoslavia for refusing to permit a US occupation were just two examples they cited in justifying their objections to her as the school's commencement speaker.
However, Albright told the LA Times that the students "have a duty to listen to people that they might disagree with," before falling back on the feminist card. "There's plenty of room in the world for mediocre men, there's none for mediocre women," she lamented.
Albright is also booked to speak at Harvard's JFK School of Government and the University of Denver's graduation ceremonies, but has not been met with objections from faculty or students at those educational institutions, the LA Times says.
However, in April, Syracuse students protested Albright when she gave an Ethics lecture, describing the decision to invite her as "an absolute insult to the meaning of 'ethics.'"
Other speakers have been forced to pull out of college speeches as well. Smith College objected to IMF leader Christine Lagarde as commencement speaker due to the International Monetary Fund's role in "strengthening of imperialist and patriarchal systems that oppress and abuse women worldwide."
Another former secretary of state, Condoleezza Rice, was rejected by Rutgers students in 2014 because of the part she played in the Iraq War. Rice was set to pocket $35,000 for the gig, LAT reports.
Graduation school speeches can set colleges back over $100,000, but Scripps only covers travel fees. Other colleges have been criticized for spending obscene amounts of money on speakers ranging from reality stars to politicians. In a country where college debt has become a crippling problem for many young people, spending the equivalent of more than a year's tuition on a graduation speech could appear to be out of touch with reality, as far as the students are concerned
Former UN Secretary-General Kofi Annan was paid $160,000 for a commencement speech at the University of Colorado, while reality star Snooki of Jersey Shore got $32,000 for speaking at Rutgers in 2011.
Scripps College's 86th Annual Commencement will take place on Saturday, May 14 at 5:00 pm.
You can share this story on social media: