Police body cams fail to curb officers' use of force; linked to surge in assaults on cops – study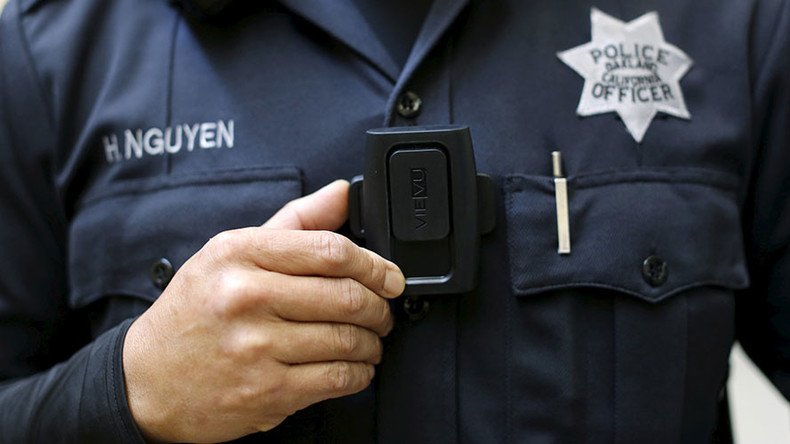 Though proposed as remedy for police violence, police wearing cameras showed a 70 percent greater tendency to use force when they could decide when to turn them on or off, while assaults on officers with body cams soared, recent findings have revealed.
These "counter-intuitive" results come from a study conducted in both the UK and US that was published in the European Journal of Criminology and the Journal of Experimental Criminology.
According to researchers at Cambridge and RAND Europe, body cameras have failed to reduce police violence, while increasing assaults against officers.
"To date, there is no reported evidence on the effect of wearing cameras on assaults against officers, but the working assumption has been that cameras would make officers 'safer,'" researchers wrote.
However, they have found that the rate of assaults against police officers per 1,000 arrests jumped 15 percent when the cameras were present.
The researchers studied 2,122 officers in eight police departments, who were randomly divided into two groups – one which had to wear a camera and film their entire shift, and another whose cameras were off the whole time. Those groups would switch weekly.
Under "the experimental protocol," group #1 also had to notify the public that their camera was on and recording their interaction. However, many officers preferred to use their own discretion in deciding whether to turn on their cameras or not, depending on the situation.
The results showed a significant difference, while also sending a message. The researchers found that when officers complied with the protocol, leaving their cameras on the whole time, use of force rates were 37 percent lower, but when they broke the protocol, turning the camera on and off at will, they were 71 percent more likely to employ force.
"BWCs [Body-worn cameras] can reduce police use of force when officers' discretion to turn cameras on or off is minimized – in terms of both case types as well as individual incidents," the authors of the survey concluded in their follow-up analysis.
The team is still unsure of the reason for the increase, but has suggested that police officers choose to turn on their cameras only in situations that are already escalating in aggression. Researchers also suggested that activating a camera during a tense situation may result in greater aggression from citizens or suspects, and therefore officers.
READ MORE: News station sues after NYPD tries to charge $36k for bodycam footage
The study was conducted over two-million policing hours covering a total population of more than two-million people.
Ronald Hampton of the National Police Accountability Project told RT that he is puzzled by the fact there is "some resistance" by police officers to wearing the cameras.
"The whole idea of a camera is to reduce the situation and gain information. I just don't understand why you would only turn them on when you go into the situation, because then you lose some perspective in the whole process – you don't know how and what caused the situation in the first place," Hampton said, stressing that providing transparency is the main reason for the measure.
"The cameras don't lie. As a police officer myself, I'd welcome wearing a camera because it offers two things – a film of the situation and it also lets me know that I can use it in a way to protect myself," he said.
You can share this story on social media: