Hackers target presidential candidates, more cyber-attacks to come – intelligence chief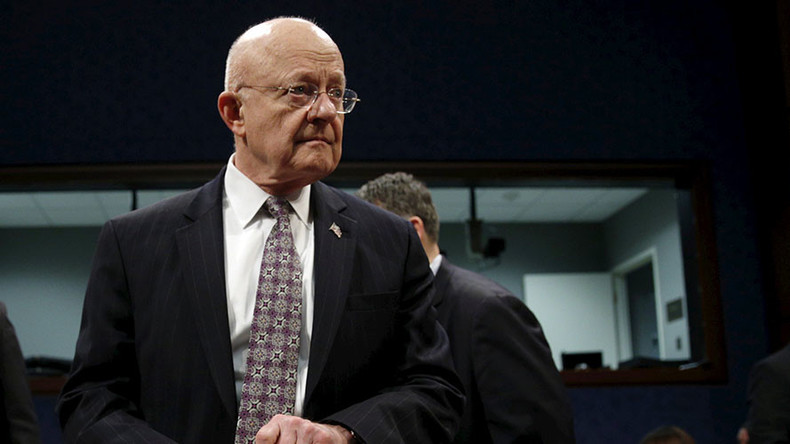 Hackers, possibly associated with foreign governments are trying to infiltrate 2016 presidential campaigns, the chief of US national intelligence revealed, warning of more cyber-attacks to come as the race for the White House intensifies this summer.
"We've already had some indications of that," James Clapper, the Director of National Intelligence, said during an event at the Bipartisan Policy Center on Tuesday. "I anticipate as the campaigns intensify, we will have more of it."
However, Clapper offered no details on which of the candidates had been victims or how US intelligence detected the hacks.
Clapper's spokesman, Brian Hale, echoed the national intelligence chief's words in a statement he posted on Twitter after the event.
"We're aware that campaigns and related organizations and individuals are targeted by actors with a variety of motivations— from philosophical differences to espionage — and capabilities— from defacements to intrusions," Hale said, while redirecting all questions to the FBI.
According to Clapper, the hackers may have been acting under the umbrella of foreign governments.
In this regard, he recalled the 2008 and 2012 presidential campaigns, when hackers attempted to steal private data, such as Barack Obama's and his Republican rivals' emails, as well as some classified information.
Obama and Republican Senator John McCain were reportedly targeted by a massive Chinese cyber espionage effort while they were candidates in 2008. More attacks on campaigns came in 2012, when both Obama and his GOP opponent, Mitt Romney, faced a number of attacks. Romney's website was briefly shut down by cyber intruders.
Clapper's office issued a report earlier in May saying that foreign intelligence services had tracked the 2008 presidential election race "like no other."
According to the report, US intelligence traced many of those massive cyber-attacks back to hackers in China.
"The Russians and Chinese are far more sophisticated and could do real damage if so inclined. Then there are terrorist groups," Clapper said, talking about cyber-attacks in general.
Clapper says the Department of Homeland Security (DHS) and the FBI "are doing what they can to educate both campaigns against potential cyber threats."
Both Republican and Democratic presidential candidates will begin receiving "exactly the same" intelligence briefings after being officially nominated by their respective party conventions this July.
According to AP, neither Republican frontrunner Donald Trump nor his likely rival Democratic rival, Hillary Clinton, have replied to inquires asking if their campaigns have been affected.
Hacker squad Anonymous launched an operation against Trump last March called #OpWhiteRose, named after a non-violent resistance group in Nazi Germany.
Anonymous declared "total war" on Trump, calling on fellow hacktivists to unite with them in attacking all of his websites on April Fools' Day in order to "dismantle" Trump's presidential campaign and "sabotage his brand."
The hacktivist group first threatened Trump with war in December after he proposed banning all Muslims from entering the United States.
At the same time, Trump's main rival, Democratic frontrunner Hillary Clinton, is still facing scrutiny and criticism over her use of a private email server during her term as secretary of state, which possibly left sensitive information vulnerable to hackers.