Bill allowing 9/11 victims to sue Saudi Arabia passes the Senate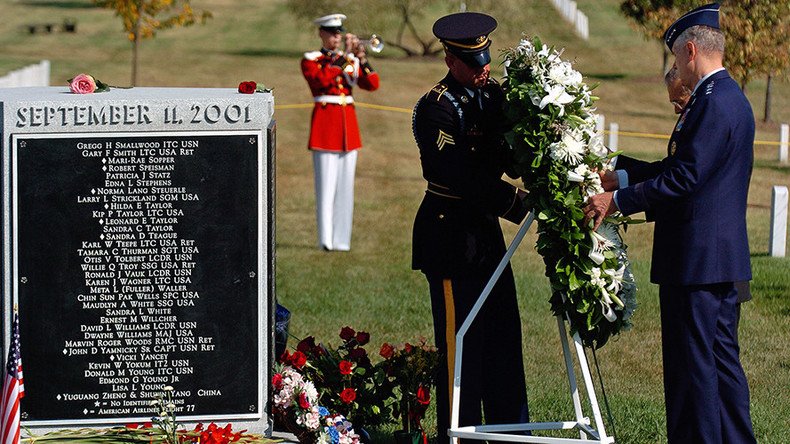 The US Senate adopted unanimously a proposed bill that would allow Americans to sue nation-states for terrorist attacks on US soil, despite opposition from the White House and allies such as Saudi Arabia.
Dubbed "Justice Against Sponsors of Terrorism Act," the bill sailed through the upper chamber of Congress without opposition Tuesday. It now heads to the House of Representatives, which has its own version of the proposal.
"This bill is very near and dear to my heart as a New Yorker because it would allow the victims of 9/11 to pursue some small measure of justice," said Senator Charles Schumer, a New York Democrat, according to The Hill. "[This is] another example of the [John] Cornyn-Schumer collaboration, which works pretty well around here."
Senator John Cornyn, a Republican from Texas, co-sponsored the bill and apparently prevailed over his South Carolina colleague Lindsey Graham, who had put a hold on the bill last month, citing concerns it would open the US up to lawsuits by foreign governments.
Graham's office said he dropped the hold over the recent recess, The Hill reported.
The bill faces bipartisan opposition in the lower chamber and the executive branch, however.
"I think we need to review it to make sure we are not making mistakes with our allies and we're not catching people in this that shouldn't be caught up in this," Speaker of the House Paul Ryan said last month, earning thanks from the White House.
The Cornyn-Schumer bill seeks to create an exception in the doctrine of sovereign immunity established by a 1976 law, which has so far shielded Saudi Arabia from lawsuits over the September 11, 2001 terror attacks. Fifteen out of 19 hijackers involved were Saudi subjects.
Citing sovereign immunity, a federal judge threw out a lawsuit by the 9/11 families against the kingdom in September 2015. Under the Cornyn-Schumer bill, however, Riyadh could be sued because the attacks on the World Trade Center and the Pentagon killed American citizens on US soil.
Saudi Arabia has voiced opposition to the bill. During the visit to Washington in March, Saudi Foreign Minister Adel al-Jubeir said the country would sell up to $750 billion in US treasury securities and other assets before the lawsuits put them in jeopardy.
The warning was delivered by last month during a visit to Washington, the New York Times reported. He said his country would sell up to $750 billion in US treasury securities and other assets before the bill puts them in jeopardy.
On Monday, the US Treasury Department revealed that the kingdom owned $116.8 billion in securities as of March.
You can share this story on social media: