'None of your business': Trump refuses to reveal tax rate, stalls on returns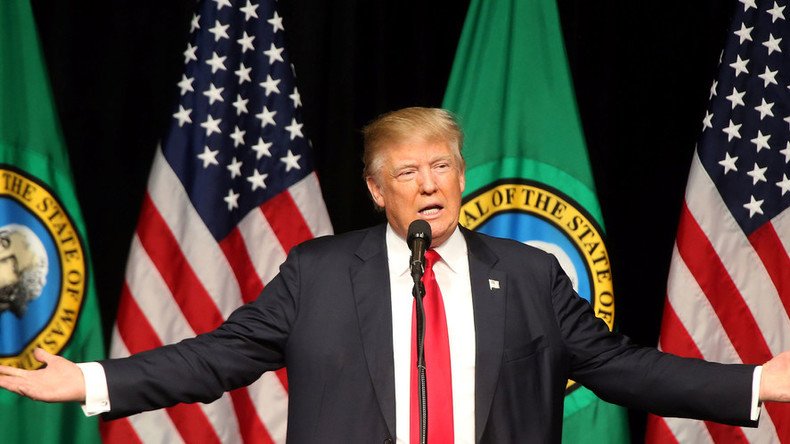 Republican presidential candidate Donald Trump says his tax rate is nobody else's business and that he won't reveal it until his tax returns are out – and those may or may not be released by the time Americans vote in November.
"It's none of your business, you'll see it when I release," Trump said during an interview with Good Morning America's George Stephanopoulos, who asked him what his tax rate is.
"I fight very hard to pay as little tax as possible, and I've said that for the last two years," Trump added, arguing that the government takes in so much money and cannot do basic things such as fixing roads. "This country wastes our money."
The comments come as Trump continues to waffle on whether or not he will release his tax returns before the presidential election, a move that has sparked criticism from his rivals on the left as well as high-profile Republicans such as former presidential candidate Mitt Romney. Trump said that he is currently being audited and that he will release his tax returns when the audit is over – he's just no sure when that will be.
Asked if he believes Americans deserve to see his returns before they vote, Trump said no.
"I don't think they do, but I do say this: I will really gladly give them. They're not going to learn anything, but it's under routine audit," Trump said, adding that there's no bombshell waiting inside. "You learn very little from tax returns."
Stephanopoulos disputed that statement, saying people can learn quite a bit. He pointed to possible sources of income – including foreign ones – and offshore accounts.
"I'll tell you right now: I do not. I don't have Swiss bank accounts, I don't have offshore, I really have a very, very clean company," Trump replied.
Notably, Trump's name appeared 3,540 times in the Panama Papers, a trove of leaks that detail how many wealthy individuals and companies hide assets overseas, according to the International Consortium of Investigative Journalists. Since Trump routinely licenses his name out to investors, the listing of his name doesn't necessarily mean he is involved in an offshore account.
After Trump initially refused to release his returns, former Massachusetts Governor Mitt Romney – a Trump critic who also came under pressure to release his returns when he ran for president – said the decision was "disqualifying."
"There is only one logical explanation for Mr Trump's refusal to release his returns: there is a bombshell in them," Romney wrote on Facebook. "Given Mr. Trump's equanimity with other flaws in his history, we can only assume it's a bombshell of unusual size."
The issue has also been picked up by Democrats, including Hillary Clinton, who questioned why the real estate mogul is reluctant to release his returns.
"My husband and I have released 33 years of tax returns, we've got eight years on our website right now," she said on Thursday, as quoted by CNN. "So you have got to ask yourself, why does he not release them?"
Asked about Clinton's comments on Friday, Trump called the former secretary of state a "hypocrite" and pointed to her private server email scandal as well as her refusal to release transcripts of speeches she gave to big banks.
"I sort of have to laugh when Clinton says it. Mrs Clinton said I should give my tax returns. What about all the emails or missing Goldman Sachs speeches?" Trump said.
"There are emails missing all over the place," he added after Stephanopoulos said Clinton has released all emails in her possession. "It's a scam."
For her part, Clinton has released eight years' worth of tax returns leading up to 2014, showing that she and her husband earned almost $141 million over the timespan. The Clintons paid $43 million in taxes at a federal tax rate of almost 36 percent.
On the issue of her Goldman Sachs speeches, though, Clinton has declined to reveal details. She gave three speeches to the firm that earned her $225,000 each and has come under fire from critics who say she is cozy with Wall Street. Clinton has said she'd only release the transcripts if other candidates reveal what they say in paid events behind closed doors.
The only other major party candidate still in the race is Vermont Senator Bernie Sanders, who revealed his 2014 tax returns in April. He and his wife paid more than $27,000 in taxes off an income of $205,000, a federal tax rate of 13.5 percent.
Sanders was criticized for using multiple deductions to reduce his rate by a couple percentage points, since he has often railed against practices that lower the amount of taxes owed. Supporters argued that Sanders supports policy that would require him to pay more taxes, suggesting he's willing to change the law to pay more.
You can share this story on social media: