Russia on menu? Obama gathers 5 Nordic leaders for summit in Washington
Published time: 13 May, 2016 12:01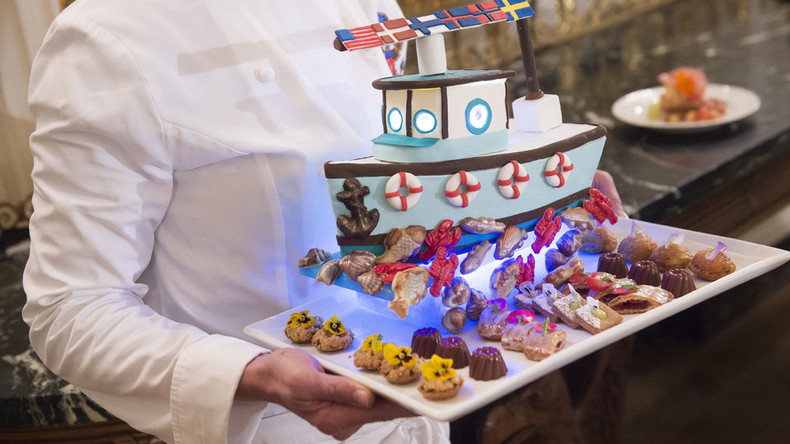 US President Barack Obama is hosting his counterparts from five Nordic nations in Washington. While officials were somewhat vague about the agenda, NATO's build up in Europe and Russia is expected to figure highly.
The leaders of Denmark, Finland, Iceland, Norway, and Sweden are visiting the US on Friday for a glamorous state visit and dinner. It will take place in a tent on the South Lawn boasting a transparent ceiling, complete with lighting, flowers and ice sculptures evoking the northern lights.
The feast has a main course of Ahi Tuna, Red Wine Braised Short Ribs, and Chicken and Waffles as an appetizer. A handcrafted fishing boat made of gum paste and chocolate will be the dessert showpiece. Albuquerque singer Demi Lovato will be the night's entertainment.
The White House said Obama and his guests will discuss "a range of issues, including countering terrorism and violent extremism, protecting the environment, coordinating on Arctic issues, promoting the Global Health Security Agenda, advancing sustainable development, enhancing nuclear security, providing humanitarian assistance, and addressing the migration and refugee crisis in a humane and orderly way."
Another issue with a prominent place on the agenda is likely to be Russia. Three of the five Nordic nations are already NATO members and Sweden and Finland are close alliance partners, but their populations are divided about the possibility of full membership.
"It is a way of sending a signal that the United States is deeply engaged when it comes to the security of the region, and we will be actively discussing what steps we can collectively take to improve the situation," said Charles Kupchan, Obama's senior director for European affairs.
NATO is pushing for a greater presence in parts of Europe close to the Russian borders, claiming that Moscow poses a military threat to its neighbors. Anti-Russian sentiment has been stirred lately in some Nordic countries as well.
In Sweden, the Navy launched a long and futile hunt for an alleged Russian spy submarine in 2014. And last year its Army chief told the military during a major event that they could be in a war against Russia in a few years.
In Norway, the military have resumed the Cold War-era practice of storing tanks and other hardware in a series of caves – as a contingency for a major continental war. It also hosted military training this year, one of the biggest since the Cold War and one of dozens NATO held near Russia's border in the past few years. The scenario of Cold Response involved a conflict with a fictional cold country.
READ MORE: NATO storing tanks & military hardware in Cold War-era Norwegian caves
The most-expensive domestically-produced TV series in Norway is about a Russian occupation of the country – conducted with the blessing of the European Union to ensure stability of energy supply.
Moscow insists that NATO is using scaremongering tactics to justify the rise of defense spending by European members and greater military presence in the region. Russia' latest response to this has been to strengthen its own troops on the western border.