Clinton is the Wall Street candidate based on donation figures - report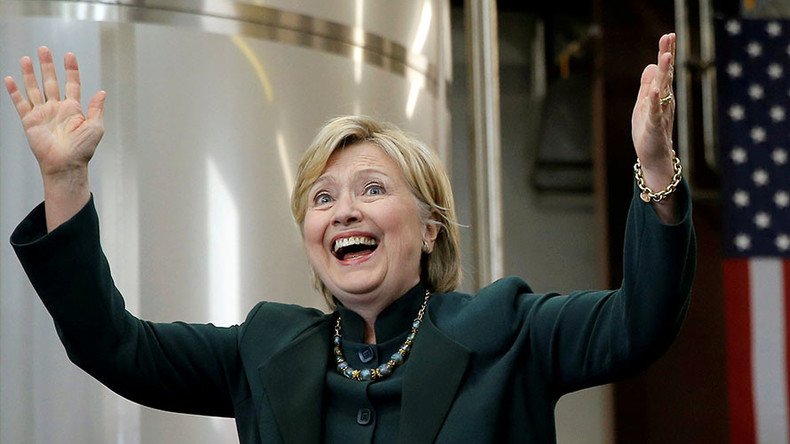 Democratic presidential candidate Hillary Clinton has received consistently high financial support from Wall Street during her campaign, with business interests increasing donations in the wake of mainstream Republicans bowing out of the race.
Clinton's campaign and Priorities USA Action, the super PAC (political action committee, which can take unlimited contributions) supporting her, have received $23 million during the 2016 presidential campaign, the Wall Street Journal reported. Clinton has been the recipient of more than one-third of donations from top financial interests in the entire presidential campaign, the Journal added in its analysis of fundraising data organized by the Center for Responsive Politics.
Of the $23 million Clinton or Priorities USA Action has received from Wall Street, at least $4.2 million went to her campaign while the super PAC took in $18.7 million. The financial services industry has given more to Priorities USA Action than any other industry, according to the Journal.
In March, as Clinton moved closer to besting rival Bernie Sanders for the Democratic nomination and with Republican candidate Donald Trump poised to be the GOP's nominee, Wall Street donations to Clinton spiked. That month, Wall Street sources raised $344,000 for Clinton, more than half of all money donated to presidential candidates by major financial interests.
In 2015, Clinton benefited from about one-third of presidential campaign donations made by Wall Street. Clinton's campaign also took in about one-third of financial-sector donations in January and February of 2016, the Journal reported.
For Wall Street, Clinton has also proved to be the candidate-of-choice remaining in the presidential race after heavily-favored Republican candidates such as Jeb Bush and Marco Rubio fell prey to Donald Trump's campaign earlier this year. More than 500 Wall Street donors who gave money to Republicans and eventually left the presidential race later donated to Clinton.
Trump, meanwhile, has never received more than one percent of Wall Street donations in any month of the presidential campaign through March. Top donors told the Journal that Clinton is seen as the more steady, known candidate who "is not antibusiness," one Republican lobbyist said.
With their candidate closing in on the Democratic presidential nomination, Clinton supporters are reportedly wooing top donors of the Bush family, according to Politico.
"There's no official outreach from the campaign but I would not be at all surprised if our supporters are doing it on their own," Clinton spokesman Josh Schwerin said.
Clinton's campaign has received more than $76 million in the 2016 race, while super PACs supporting her have raised more than $180 million, according to the Center for Responsive Politics. Trump's campaign has received more than $2.7 million with supportive super PACs taking in more than $48 million.
Overall, the campaigns of presidential candidates in the 2016 race have received $720 million, while super PACs have raised $446 million.
You can share this story on social media: