Maine Democrats eliminate power of superdelegates in convention vote (VIDEO)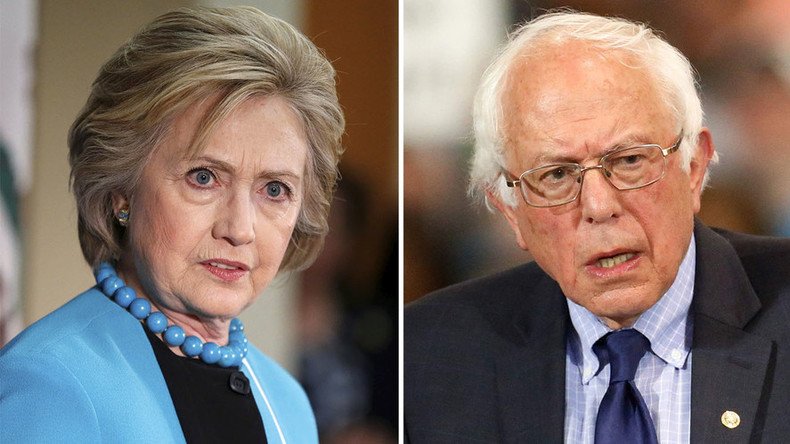 The Maine Democratic Party have voted to abolish the influence of superdelegates, a group with the power to choose the party's presidential nominee irrespective of the voters' choice.
The rule change was passed by a vote during Saturday's Democratic Party convention in Portland, followed by chants of "Bernie, Bernie!"
However, the amendment won't take effect in time to officially guide superdelegates in the current presidential election.
Hillary Clinton has consistently received more support from superdelegates than Bernie Sanders - a lot more. Clinton has so far received 523 superdelegate endorsements to Bernie's measly 39, with 152 still uncommitted, according to Associated Press' tally.
Maine throwing out superdelegates is beauty of Democracy in action. I hope it keeps getting restored. Kudos to our fellow patriots in Maine.

— Michael Salamone (@MichaelSalamone) May 8, 2016
READ MORE: Maine Democrats to vote on eliminating superdelegates
Maine has five superdelegates: three are currently pledged to Hillary Clinton, one to Sanders and one is undecided. This means that Clinton is most probably in line to receive the state's nomination, despite Sanders winning the Maine caucus with 63 percent of the votes.
Democratic State Representative Diane Russell explained that this is what pushed her to introduce the issue of superdelegate abolition at the convention.
"The reason that I have put this in is we have heard from people all across the state about how frustrated they are that you can actually have a popular vote where 63 percent of the delegates go to one candidate, and yet superdelegates are not voting in proportion to that," Russell said.
The new rules mean superdelegate presidential preferences will be allocated in the same proportion as voter preferences.
READ MORE: Sanders wins Maine with double-digit margin over Clinton
The amendment doesn't come into effect until 2020.
"First, if you're going to advocate for a fair system, you should probably be fair and not change the rules midstream," Russell, who wrote the amendment, told RT.com.
Second - crucially - pushing the amendment into effect in the current election cycle could spark sanctions from the national party, potentially costing Maine up to 50 percent of its Democratic delegates to the national convention.
However, the Maine Democratic Party has urged superdelegates to "agree voluntarily to vote in these proportions" for the 2016 election, and plans to petition the National Committee to abolish the superdelegate institute completely.
At urging of @MissWrite and progressive allies, Maine D convention urges superdelegates to honor the will of voters in the state's caucuses.

— John Nichols (@NicholsUprising) May 7, 2016
Russell said she has been contacted by Democrats in other states who wish to follow Maine's lead on superdelegates, building hopes of one day nationally choosing a presidential nominee solely by popular vote.
"If we want to build a fair economy that works for everyone, we must first build a fair election system that works for everyone," Russell said.
You can share this story on social media: