Mexican drug lord 'El Chapo' to be extradited to US, judge rules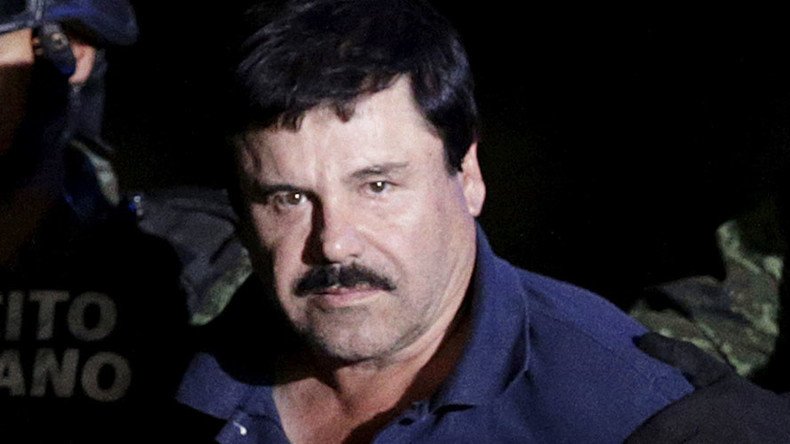 A Mexican federal judge has ruled that Joaquin 'El Chapo' Guzman can be extradited to the US to face criminal charges, days after the notorious drug lord was moved to a prison near the US border. Guzman's lawyers are fighting the decision.
The Sinaloa Cartel boss was recaptured in January after a months-long manhunt following his spectacular escape from a maximum-security prison in July 2015. El Chapo ("Shorty") used a mile-long tunnel dug by his henchmen to reach a motorcycle that was waiting for him and disappeared. The prison break reportedly cost him $50 million in bribes.
On Saturday, Guzman was moved to a prison in Ciudad Juarez, Chihuahua – just across the border from the US – prompting rumors of the impending extradition. A spokesman for the Mexican president told Reuters the transfer was due to upgrades at the Altiplano maximum-security prison, and had nothing to do with sending the drug lord to the US.
A "senior Mexican security official," speaking on condition of anonymity, told Reuters that Guzman would be extradited before July, though. "I think they'll do it in the first half of this year," the agency quoted him as saying.
An official from the state of Chihuahua, likewise requesting anonymity, told Reuters that Guzman's extradition might be expedited by the fact that Ciudad Juarez has a US consulate, and that the drug lord could be sent to Fort Bliss, a US Army post right across the border. He described the extradition as a "matter of weeks."
There are nine appeals pending against Guzman's extradition, said one of his lawyers, Juan Pablo Badillo, adding that to transfer his client to the US now would be a "violation of his human rights."
"It's an absurd action, illogical," Badillo told reporters after Saturday's prison transfer. "The authorities shouldn't do this. It was totally unexpected."
Mexican government officials told Reuters "in private" that the decision to extradite is essentially political and entirely dependent on President Enrique Peña Nieto.
Since the drug lord had escaped from maximum-security prisons twice, the Mexican authorities took no chances after his recapture in January. He was moved from cell to cell every couple of hours, held in complete isolation and under constant surveillance, and guarded by tanks and armored vehicles.
The conditions were so severe that, in March, El Chapo instructed his lawyers to negotiate an extradition to the US in exchange for better prison conditions in a medium-security facility and a lighter sentence. Guzman's attorney Jose Refugio Rodriguez described it as "an act of desperation."
El Chapo faces a long list of criminal charges in the US, ranging from money laundering to drug trafficking, kidnapping and murder in New York City, Miami and Chicago, among others.
You can share this story on social media: