Clinton set to assemble 'Republicans for Hillary' to lure Trump skeptics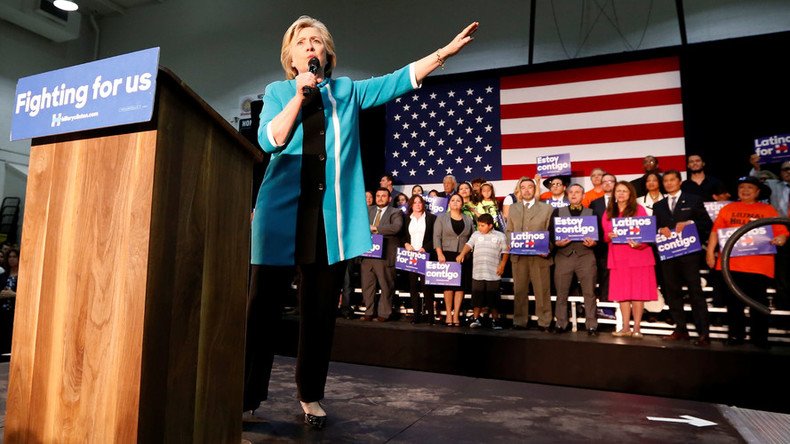 Democrat frontrunner Hillary Clinton is planning to form a "Republicans for Hillary" group in an attempt to win votes over Donald Trump. The movement will involve influential Republicans disillusioned by Trump as presidential candidate, US media reports.
Clinton is also surging relations with outstanding Republican figures and mega donors she met during her term as US secretary of state from 2009 to 2013, The New York Times reported.
These are people like Mark Salter, a top adviser to John McCain, the defeated Republican candidate in 2008 election. He has already supported Clinton after Trump became the Republican candidate earlier this week.
the GOP is going to nominate for President a guy who reads the National Enquirer and thinks it's on the level. I'm with her.

— Mark Salter (@MarkSalter55) 3 мая 2016 г.
Among other supporters, are ex-CIA director General David Petraeus, and former US defense secretary Robert Gates.
Both are Republicans, but have touted Clinton saying she would make a great president.
"I invite a lot of Republicans and independents who I've been seeing on the campaign trail, who've been reaching out to me, I invite them to join with Democrats. Let's get off the red [Republican] or the blue [Democrat] team. Let's get on the American team," Clinton told CNN.
Hillary Clinton seems to be adopting a more centrist policy in general, to win more voters: in particular, Bill Clinton, still quite popular among the working class, as the one to be responsible for creating jobs in economic black spots.
Another specific group the Democratic presidential candidate could win over are working-class women, who lean towards Republicans, but have been put off by Trump's rhetoric.
All in all other key Republicans have been renouncing Trump as candidate, saying they can't vote for Clinton either. Among them, are George W Bush and his father George HW Bush, both former presidents, Mitt Romney, the party's 2012 presidential candidate, and Paul Ryan, the Republican speaker of the House of Representatives.
On the whole, Americans seem to be gearing for a vote to block a candidate, rather than in favour of someone, according to a recent poll conducted by Ipsos market research company from April 29 to May 5.
47 percent of Trump's supporters said they would vote for him only to avoid Clinton becoming president, another 43 percent saying they support Trump, and only 6 percent admitting they like the Republican US presidential candidate.
Likewise, 46 percent of Clinton's supporters said they would be voting to stop Trump getting to the Oval Office, while another 40 percent agreed with Clinton's declared political program, and 11 percent said they loved Hillary personally.
Some are actually very scared about the possible Trump's win: a US citizen sent a letter to Queen Elizabeth II, asking to "take America back".
The letter's author has become "frustrated with the current field of presidential candidates (particularly on the GOP side)", and he wraps the letter up with "God Save The Queen".
You can share this story on social media: