And then there were none: Kasich exit leaves Trump with no challengers for GOP nomination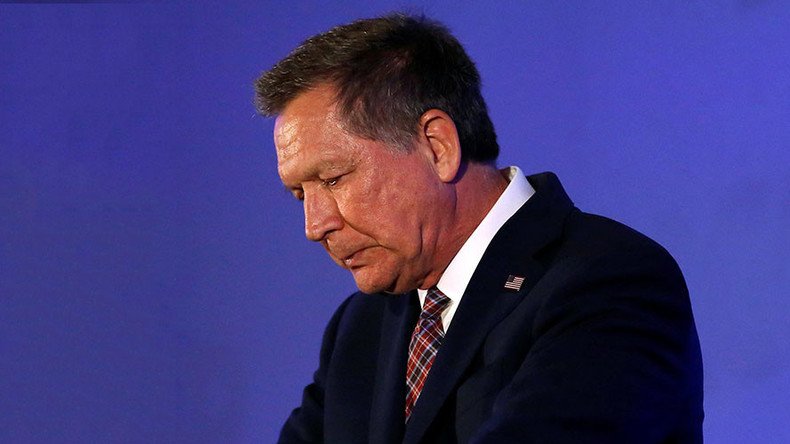 Ohio Governor John Kasich is suspending his campaign for president, leaving Donald Trump as the presumptive Republican nominee. Texas Senator Ted Cruz dropped out Tuesday night, following Trump's triumph in the Indiana primary.
Sources from within the campaign confirmed that Kasich would announce his withdrawal on Wednesday afternoon. He is not expected to endorse Trump, CNN reported, citing campaign insiders.
Announcing he would be suspending his campaign on Wednesday afternoon, Kasich said he had a "deeper faith that the Lord will show me the way forward and fulfill the purpose of my life."
"The people of our country changed me with the stories of their lives," Kasich said, reminiscing about the individuals he met on the campaign trail. "God gave me the grace to make people feel safe and comfortable."
READ MORE: John Kasich stays in presidential race, internet scoffs
Kasich spent the majority of his speech thanking his supporters and the residents of Ohio, as well as discussing the campaign in general. He did not explain why he was dropping out of the race, however, leaving the podium at the end of his speech without taking any questions.
As late as Wednesday morning, the Ohio governor showed no signs of dropping out of the race, maintaining even after Indiana that he was the GOP's only hope of defeating Democratic frontrunner Hillary Clinton.
The claim was based on an aggregate of national polls showing him as the only GOP candidate beating Clinton in a matchup. The same polls show Vermont Senator Bernie Sanders winning in every match-up against GOP candidates, including Kasich. Sanders is currently trailing the former first lady and secretary of state by 320 pledged delegates, despite his victory in Indiana.
Kasich came in second in the New Hampshire primary with 15.8 percent of the vote, edging out Cruz with 11.7, but falling well behind Trump's 35.3 percent.
Florida Senator Marco Rubio urged his supporters to back Kasich in the March 15 Ohio primary, expecting Kasich to return the favor in Florida. However, the Ohio governor refused the offered alliance, and watched Rubio lose Florida to Trump by a landslide.
As Rubio dropped out of the race, Kasich won Ohio by a substantial margin and gave a triumphant speech about becoming the nominee when the GOP convention met in Cleveland in July. He failed to win any other states after that, however, and his delegate count as of Tuesday – 153 – was still behind Rubio's 171.
Now John Kasich is 4th place in a 2-man race.

— Nate Silver (@NateSilver538) May 4, 2016
Kasich spent 18 years in Congress before becoming a managing director for Lehman Brothers from 2001 until their collapse in 2008. He also hosted a show on the Fox News Channel, before being elected governor of Ohio in 2010.
You can share this story on social media: