Laquan McDonald case: Prosecutor requests withdrawal, police attorney wants special security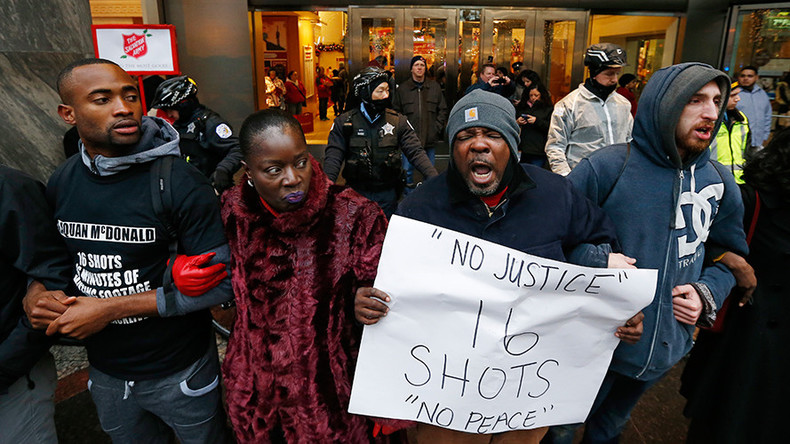 The Cook County prosecutor who brought murder charges against a Chicago police officer who fatally shot Laquan McDonald wants to withdraw from the case, while the cop's attorney has asked the court for special security after receiving death threats.
"While it has not been an easy decision, I believe it is the right one because it will help to avoid unnecessary legal delays and provide continuity in the handling of this very important and complicated case," Cook County State Attorney Anita Alvarez said in a statement, according to the Washington Post.
The case in question concerns white Chicago police officer Jason Van Dyke, who shot a black teenager, Laquan McDonald, 16 times in October of 2014. Alvarez took more than a year to file first-degree murder charges against the police officer, which came shortly after the public release of dashcam video showing Van Dyke shooting McDonald over and over.
The footage led to major protests and investigations from authorities at the local and federal level, as well as the Chicago Police Department. Chicago Mayor Rahm Emanuel was prompted to fire the police superintendent, Garry McCarthy, due to the handling of the case.
Earlier this year, civil rights attorneys and activists called for a special prosecutor to replace Alvarez because of her alleged close political relationship with the police officers' union, which they argued created a conflict of interest and made her reluctant to pursue criminal cases against police.
Alvarez maintained that there was "no legal conflict of interest," but her recent reelection bid loss in the Democratic primary led her to believe that it was necessary to turn things over to a special prosecutor, recognizing that a new prosecutor would replace her next year anyway.
If Cook County Circuit Judge Vincent Gaughan approves her motion, it would clear the way for an outside prosecutor. Gaughan said he would announce his decision on June 2.
Judge Gaughan also announced in court that there will be a special security plan in place for future hearings connected with the case, which was worked out with prosecutors, defense attorneys, and the sheriff's office last week, though he provide no further details.
"It's just unconscionable to think that we could compel an individual to appear at a court date without providing for that person's security," Gaughan said. "Mob rule will not happen in this courtroom."
Van Dyke's attorney also asked that his client be excused from routine status hearings due to death threats, racial slurs, and harassment during his comings and goings at the courthouse.
The officer's attorney said Van Dyke's life has been threatened, his father had been "physically battered," and a family car had been "smashed" at previous court appearances.
Prosecutors argued against the request, arguing it would create the appearance of special treatment. They also argued that Van Dyke has not demonstrated any credible threat to his life.
"While verbal threats and taunts may create an uncomfortable passage to and from the courthouse, mere words do not jeopardize defendant's personal safety, and therefore do not necessitate defendant's absence from court appearances," prosecutors wrote, according to WBBM CBS Chicago.
Judge Gaughan held off on ruling on the matter.
Van Dyke is free on $1.5 million bail as he awaits trial for the first-degree murder of McDonald. He has been suspended without pay.