Anger & disrespect: Laquan McDonald's grandmother on shooting video release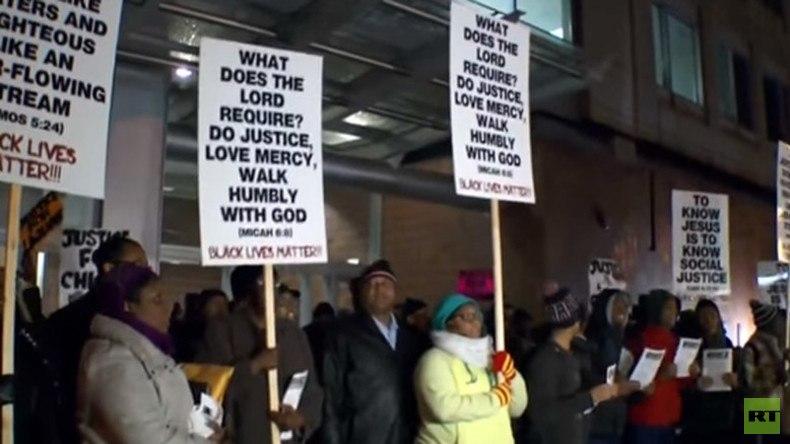 Tracey Hunter, the maternal grandmother of Laquan McDonald, the 17-year-old killed by Chicago police last year, told RT she felt "very disrespected" after the video of her grandson's shooting death was released to the public.
"I felt anger, very disrespected, because I didn't want to release to the public it," Hunter said, referring to the police car dash cam footage of her grandson's October 20, 2014 death. "They disrespected my daughter's wishes about releasing to the public, and I was just so hurt about the whole situation, and I was angry about it."
Laquan McDonald, who was carrying a knife, was killed in a hail of 16 bullets which did not cease even after he lay nearly motionless on the ground. Contrary to initial police reports, the recently released video shows McDonald did not lunge at Jason Van Dyke before the Chicago police officer opened fire on him.
The video's release came more than a year after the incident, but it almost didn't come out at all. Independent journalist Brandon Smith sued the Chicago Police Department over the matter, and a judge finally forced its release. However, it wasn't just the video that sparked protests. What enraged so many of those taking to the streets was the fact that the city only charged Van Dyke once release of the video was imminent.
Now protesters are calling for State's Attorney Anita Alvarez to be fired and for all of the officers who witnessed the shooting without speaking out about it to be charged. In addition, they demand a special prosecutor be appointed and for the United Nations to investigate humans rights abuses of black people at the hands of Chicago police.
Hunter herself had a mixed reaction to the city's overall response. Charging Officer Van Dyke with first-degree murder, firing the Chicago police superintendent, and creating a task force to recommend reforms to the police department is "not going to bring him back," she said.
"I felt that justice had been prevailed, and it's not, because we still got a long way to go, me and my family, over this heartache and this tragedy that happened to my grandson."
The protesters "made me feel kinda glad," Hunter said, noting others who took part in the protests shared similar experiences.
"It's people out here, a family member got killed by police officers too that need justice to be done, and justice hasn't been done to their family," she said. "One thing I learned, that we are not alone in this here, we are not by ourselves in this here."
Asked how black youth might find a better future, Hunter said, "For one thing, to improve, a lot of people have to put down their guns. They pick up guns for all the wrong reasons, you know, and why, I do not know."
"To open up more centers, to have the kids do some positive things, have positive role models in their life, instead of just living life on the streets, ya know, gangbanging, selling drugs," she said. "That's not the way to go, because if you live a life like that, you're gonna die a life like that, and it's just wrong."