Clinton to be interrogated by FBI over email scandal, possibly before California primary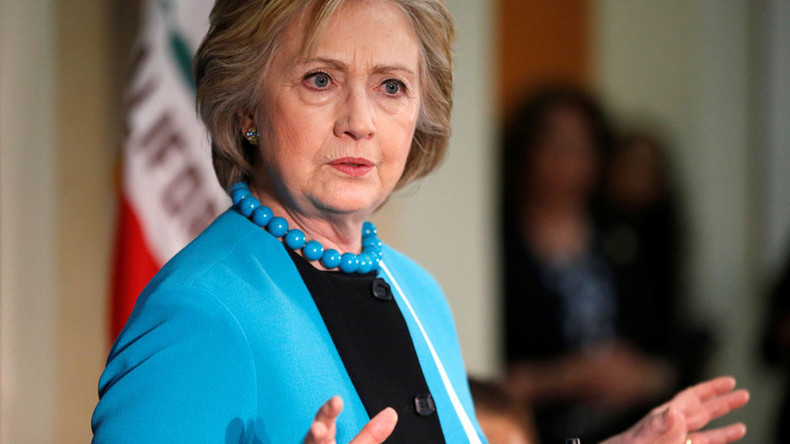 FBI investigators will interrogate Hillary Clinton in the coming weeks over her use of a private email server for state communications, according to officials cited by CNN late Thursday.
The news came after MSNBC interviewed the hacker "Guccifer," who exposed the server containing 2,200 emails, 22 marked "top secret," and claimed its security was easy to compromise.
Multiple aides to the Democratic presidential hopeful have been probed by the FBI in recent weeks including longtime adviser Huma Abedin, who is married to disgraced former Congressman Anthony Weiner.
The Department of Justice found a turncoat in Bryan Pagliano, the IT specialist who built the server allegedly "off the books," granting him immunity in exchange for his testimony.
FBI officials told CNN they have yet not found any evidence that Clinton willfully violated the law, but that the investigation is ongoing.
The Clinton campaign, which has been reluctant to speak about the scandal, refused to comment on the investigation.
READ MORE: 'Easily & Repeatedly': Romanian hacker on gaining access to Hillary Clinton's server
The investigation is expected to conclude in the next few weeks, according to CNN sources, which means the grilling of Clinton could happen before the pivotal California primary against Bernie Sanders and the Democratic convention in July where anyone can be nominated from the floor as the candidate to take on presumptive Republican nominee Donald Trump.
So what happens now when the Clinton Email Scandal blows wide open after an FBI arrest? Does another candidate step in? Or is it Sanders?

— mncahill (@mncahill) November 10, 2015
The FBI will hand over any findings from their sitdown with Clinton to the Justice Department for further investigation.
During the four years she was Secretary of State, Clinton never used an official state.gov address, instead using the private server for all state communications.
Two years after she left office, Clinton turned over 30,490 emails to the State Department after requested to do so, although her team deleted 31,830 they claim were not work related.
Clinton claims the server was created out of convenience because she didn't want to carry two BlackBerrys per State Department policy prohibiting multiple accounts on one device.
However, that contradicts an interview she gave in February last year in which she described herself as "two steps short of a hoarder" carrying a Blackberry, iPhone, iPad, and iPod with her.
The Romanian hacker "Guccifer" claims to have gained access to the server in 2013 and that several other hackers have accessed it since.
Marcel Lehel Lazar (his 'government name') says the server contained 2,200 emails, 22 of which were labelled "top secret."
Lazar is currently imprisoned in the US facing charges of hacking into accounts including those of Colin Powell and the Bush family.
Clinton claims the server has not been compromised.
READ MORE: 'Easily & Repeatedly': Romanian hacker on gaining access to Hillary Clinton's server
Bernie Sanders has resisted attacking his rival over the "damn emails," telling CNN that the American people would rather the media discuss economic and social issues.
However, his supporters want him to do otherwise before it's too late and Clinton seals the nomination using hashtags like #BernieorBust and #DropOutHillary.
NOT ONE SINGLE QUESTION ABOUT SECRETARY CLINTON FBI INVESTIGATION. Quite possibly the biggest issue facing Democratic Primary. #DemDebate

— Dawn Geary ™ (@dawngeary) April 15, 2016
His wife Jane may have got the message, because speaking on Fox News last week, she said the Sanders team wanted to let the FBI investigation take place before politicizing it, but that "it would be nice if the FBI moved it along."
With the convention looming in July, Sanders faces an uphill battle to win the nomination and would require a conscious shift by delegates in his favor, even if he wins the remaining states, aka the West Wing scenario.
READ MORE: Indiana upset: Sanders fights on as polls show him beating Trump by 13 points
Clinton may face harsher words if she runs against Trump who has already used the email scandal to question her judgement.
"She's got bad judgment. Who would do this with emails? That is a very serious problem," Trump told Fox News.
You can share this story on social media: