FDA moves to regulate E-cigarettes for first time, ban sales to minors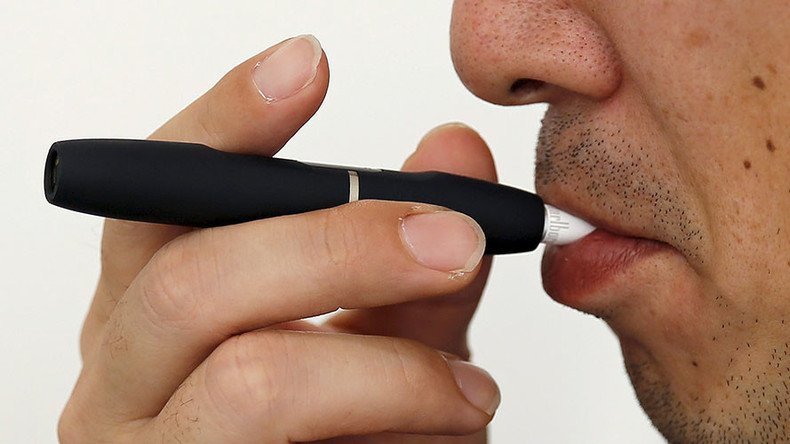 Electronic cigarettes and cigars will be regulated by the federal government and their sale will be prohibited to minors, the US Food and Drug Administration announced in a move that places a surging, multi-billion-dollar industry under heavier scrutiny.
Under the new regulations, businesses will not be allowed to sell e-cigarettes, cigars, hookah tobacco, and other tobacco products to people under 18 years of age, nor will they be allowed to hand out free samples of these products. E-cigarettes and others will also be prohibited from being sold in vending machines, except in adult-only locations.
Additionally, e-cigarette manufacturers will have to place health warnings on packages that say: "WARNING: This product contains nicotine. Nicotine is an addictive chemical."
"We have more to do to help protect Americans from the dangers of tobacco and nicotine, especially our youth. As cigarette smoking among those under 18 has fallen, the use of other nicotine products, including e-cigarettes, has taken a drastic leap. All of this is creating a new generation of Americans who are at risk of addiction," said US Health and Human Services Secretary Sylvia Burwell.
"Today's announcement is an important step in the fight for a tobacco-free generation – it will help us catch up with changes in the marketplace, put into place rules that protect our kids and give adults information they need to make informed decisions."
Besides restricting sales to minors, the FDA will require all tobacco products placed on the market since February 2007 to undergo a review process to ensure they "meet the applicable public health standard set forth in the law." This review process could take years and will require manufacturers to report their ingredients, including any harmful or potentially harmful contents.
If a product is not submitted for review or fails to receive certification from the FDA, it will be removed from the market.
The new regulations come as opponents and supporters of e-cigarettes continue to spar over the potential effects of the products, especially as studies have yet to settle the issue.
Supporters of e-cigarettes claim they are safer than traditional cigarettes because they don't burn tobacco. Instead, the devices heat a fluid containing nicotine and flavoring chemicals until it becomes a vapor that can be inhaled. Some of the chemicals in them are unknown, as the products have been unregulated thus far.
Supporters also say that these devices can help traditional smokers cut back or eventually quit smoking altogether.
Health officials at the American Lung Association say that the lack of regulation has resulted in almost 7,700 flavors of e-cigarettes and nearly 500 different brands appearing on the market – and nobody knows exactly what's in them.
The ALA also points out that nicotine is a highly addictive substance, and that sometimes the amount listed on the package is substantially less than what is actually in an e-cigarette refill liquid. Nicotine exposure during pregnancy can hurt a developing fetus and can also impair brain development in adolescents and young adults.
Nonetheless, the new FDA rules have been met with severe criticism from e-cigarette makers and industry lobbying groups, who argue the restrictions will cost so much that most products and small businesses won't be able to survive the review process. It could cost between $2 million and $10 million to secure FDA approval for a single product, the Wall Street Journal reported.
"Despite an overabundance of distorted and misleading information propagated by some in the public health community, the science is clear – responsibly manufactured vapor products are not only a safer alternative to traditional combustible products, but also provide smokers with a viable path to reducing their tobacco consumption and quitting altogether," said Tony Abboud of the Vapor Technology Association, a lobbying group representing the e-cigarette industry.
"Today's action by the FDA will do nothing to improve our nations' public health objectives. To the contrary, today's action will yank responsibly manufactured vapor products from the hands of adult smokers and replace them with the tobacco cigarettes they had been trying to give up."
The FDA said in its announcement that tobacco use is responsible for 480,000 deaths in the US every year. It also pointed to a study by the US Centers for Disease Control and Prevention, which found that e-cigarette use among high school students has risen 900 percent in four years – from 1.5 percent in 2011 to 16 percent in 2015.
"Youth use e-cigarettes more than any other tobacco product on the market today, serving as an entry point to more traditional tobacco products and placing kids at risk to the harms and addiction of nicotine and other tobacco products," said the ALA's Harold Wimmer in a statement. "Ending the tobacco epidemic is more urgent than ever, and can only happen if the FDA acts aggressively and broadly to protect all Americans from all tobacco products."
You can share this story on social media: