Holy smoke: US Congressman actually vapes during debate about vaping on planes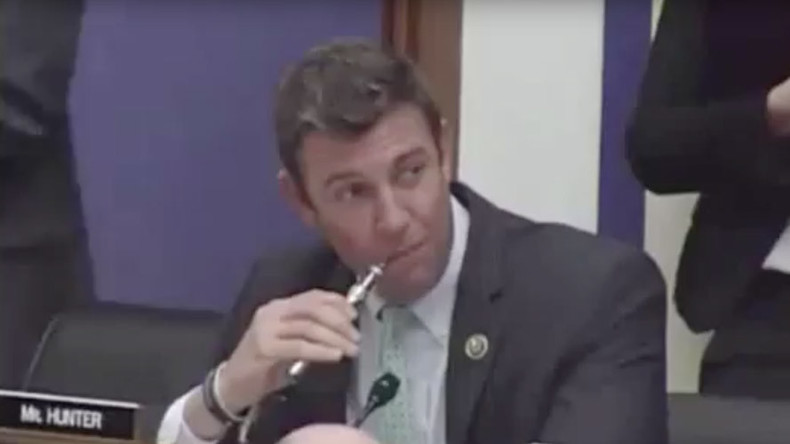 California Republican Duncan Hunter decided the best way to demonstrate his distaste for an amendment that would ban the use of vaping products on airplanes was to literally blow smoke at the congressional hearing.
US Representative Hunter's attempt to show how harmless vaping is by taking a puff during the Transportation Committee meeting was met by peals of laughter.
"This is a vaporizer. There's no combustion, no carcinogens," Hunter declared after taking a drag from the device during the debate on Thursday.
The House Transportation Committee was considering an amendment proposed by District of Columbia Delegate Eleanor Holmes Norton that would formally ban e-cigarettes on passenger airplanes.
Most airlines already ban their use in flight, and the devices are prohibited to carry in checked baggage due to the risk that they could overheat.
Hunter explained how e-cigarettes helped him quit smoking and told the committee that vaping was the future – and it wouldn't stop with just nicotine.
"In the next decade or so, you're going to be able to inhale your ibuprofen, you're going to be able to inhale your Prozac," Hunter said. "Anything else you need drug-wise, you're going to be able to inhale it."
While Hunter is convinced there are no negative health effects associated with vaping, the US Food and Drug Administration (FDA) disagrees.
In a 2014 study, the FDA found that the sample of electronic cigarettes that it had analyzed "contained detectable levels of known carcinogens and toxic chemicals to which users could potentially be exposed."
The FDA also suggested that quality control processes in the manufacture of these products are inconsistent or non-existent.
Committee Chairman Bill Shuster, a Pennsylvania Republican who was opposed the amendment, said legislators would next be looking to ban "bad breath," according to STAT News.
Nonetheless, the committee voted to approve the amendment, 33-26.
You can share this story on social media: