Brother of San Bernardino shooter, 2 others arrested on marriage fraud charges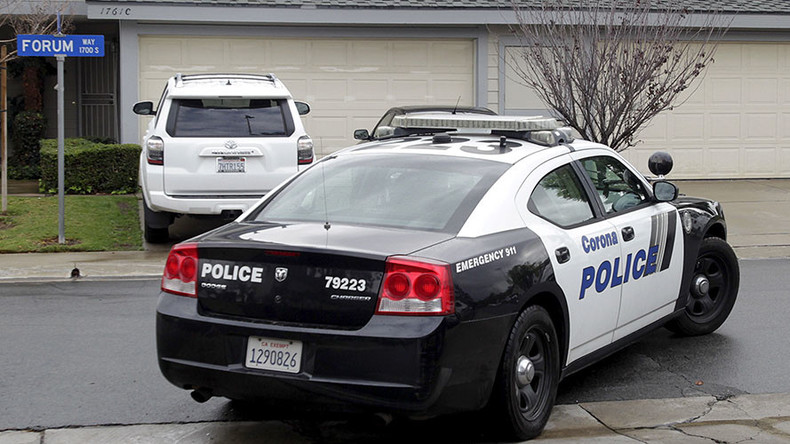 The FBI arrested Syed Raheel Farook, the older brother of terrorist Syed Rizwan Farook; his wife Tatiana Farook; and her sister Mariya Chernykh on charges of conspiracy, marriage fraud and lying to federal investigators, authorities said.
Raheel Farook, 31, and his wife Tatiana, 31, both live in Corona, California. Tatiana's sister, the 26-year-old Chernykh, lives in Ontario, California. According to official records, Chernykh is married to Enrique Marquez Jr., who was arrested in mid-December and indicted on terrorism charges for supplying guns to Rizwan Farook and his wife in the December 2 terrorist attack at the Inland Resource Center in San Bernardino, which killed 14 people and injured 21.
Read more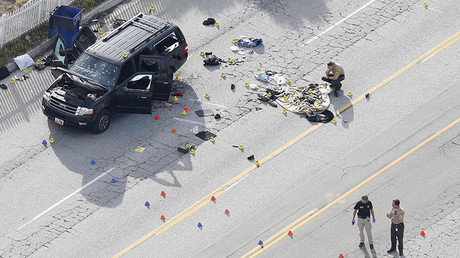 In the indictment, authorities also accused Marquez, 24, of "entering into a sham marriage with Chernykh" in November 2014, by illegally signing an immigration form that falsely declared he was living with her, the Justice Department said in a statement at the time.
On Wednesday, a federal grand jury returned a five-count indictment of the three defendants, and the FBI served search warrants in two California cities on Thursday, leading to the arrests. The three people are charged with conspiracy and lying to federal investigators. Chernykh is also charged with fraud, misuse of visas and other documents, perjury and two counts of lying to federal investigators.
Raheel and Tatiana Farook are accused of participating in the conspiracy by "among other things," serving as witnesses at Marquez and Chernykh's wedding, taking "staged family pictures" of and establishing a joint checking account for the couple, and creating a back-dated lease for Marquez and Chernykh "to create the illusion that they shared a marital residence" in the Farook's Corona home.
The 12-page indictment also said that Marquez and Chernykh did not begin to wear wedding rings until long after they were supposed to have been married, according to the Los Angeles Times. Indeed, the indictment said, Tatiana Farook and Chernykh purchased a $50 wedding ring for Marquez the day before Syed Rizwan Farook and his wife, Tashfeen Malik, carried out their shooting spree.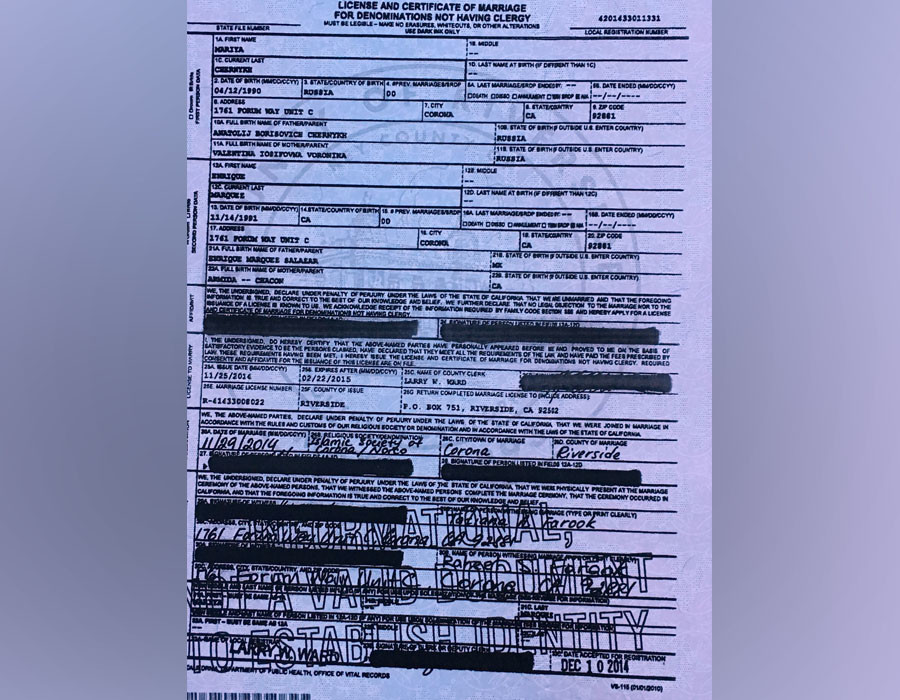 During the course of the investigation into the San Bernardino shooting, Chernykh made false statements that she and Marquez lived together with the Farooks in Corona. Federal prosecutors had previously said that Marquez was paid $200 a month for his role in the sham marriage, and Chernykh made three separate $200 deposits into their joint checking account, the indictment said.
"This is the latest step in the comprehensive investigation into the horrific attacks in San Bernardino last year that took the lives of 14 innocent Americans and deeply affected so many more," US Attorney Eileen M. Decker said in a statement. "As I have said previously, we owe the victims, and the entire community of San Bernardino, a thorough investigation that uncovers all criminal activity surrounding these events."
The US Immigration and Customs Enforcement's (ICE) Homeland Security Investigations (HSI) department was also involved in the investigation.
"Last year's tragedy in San Bernardino showed yet again how our nation's legal immigration system can be subverted and exploited," Joseph Macias, the head of HSI in Los Angeles, said in the statement.