'It's possible': Koch might back Clinton, while Sanders laments 'poor people don't vote'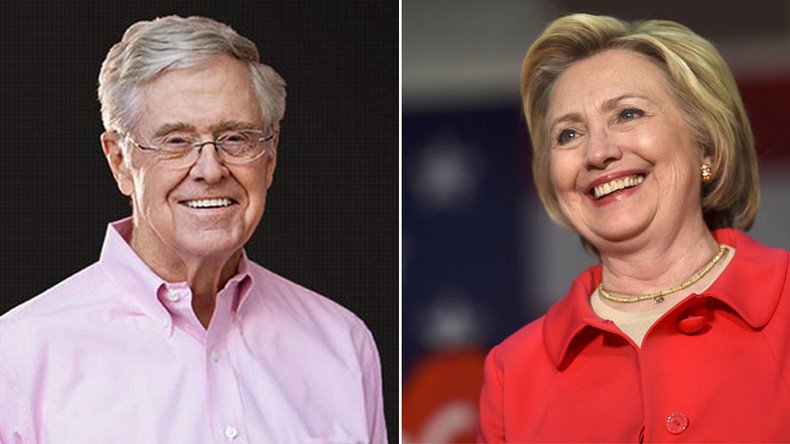 Charles Koch, one half of the conservative billionaire Koch brothers, admitted "it's possible" Democratic presidential candidate Hillary Clinton would be better than Donald Trump.
Speaking Sunday on the ABC program This Week, the Tea Party financier said, "We would have to believe her actions would be quite different than her rhetoric. Let me put it this way. But on some of the Republican candidates we would – before we could support them, we'd have to believe their actions will be quite different than the rhetoric we've heard so far."
Koch complimented former president Bill Clinton on his achievements as president, telling interviewer Jonathan Karl that Clinton was better than his Republican successor, George W. Bush, on economic growth and government spending.
"As far as the growth of government, the increase in spending, on restrictive regulations, it was two-and-a-half times under Bush than it was under Clinton," he said.
Clinton was quick to dismiss the potential endorsement on Twitter.
Last month, Clinton's Correct the Record PAC attempted to link rival Bernie Sanders with the Koch brothers, due to his opposition to Export-Import bank.
"I just think it's worth pointing out that the leaders of the fossil fuel industry, the Koch brothers, have just paid to put up an ad praising Sen Sanders. You know, there are a lot of different powerful interests in Washington. I've taken them on," Clinton said in March, unaware that she too would soon be praised by the conservatives.
Despite her campaign's opposition, the Clintons and Kochs do share a number of values and viewpoints.
Clinton was credited with "selling fracking to the world" through her promotion of the method of gas extraction, despite its devastating effects on the environment.
Koch Industries is an oil corporation and the second largest private company in the US. The brothers use their wealth to fund climate change denial. Greenpeace estimates the brothers have spent $79,048,951 on climate change denial groups since 1997.
READ MORE: Clinton loses it when Greenpeace activist asks about her fossil fuel donors (VIDEO)
TPP is the controversial trade deal Clinton supported "before she was against it" after a recent pre-primary flip-flop.
Emails from her time as Secretary of State reveal her department was "deeply involved" in discussions with Vietnam, New Zealand, and others. The Koch brothers, who pumped more than $40 million into lobbying for the deal between 2013 and 2015, control a number of PACS and think tanks, pumping in billions of dollars to influence policy.
The brothers are prepared to spend close to $1 billion on the 2016 presidential elections. They also fund Freedom Partners, which promotes "the benefits of free markets and a free society" through donations to the Tea Party, also dubbed "the Koch brothers' secret bank" by Politico.
Americans for Prosperity is an influential advocacy group funded by the Koch brothers, which has fought against the Affordable Care Act, global warming regulation, and hikes in the minimum wage.
While Clinton may reject support from the super rich Kochs, her opponent Bernie Sanders lamented on NBC's Meet the Press that his second-place finish in 16 out of 17 primary states with the highest levels of income inequality was because "poor people don't vote."
The Vermont senator went on to explain that the US has "one of the lowest voter turnouts of any major country on earth," citing the fact that 80 percent of poor people did not vote in the 2014 elections, often because they work well over 40 hours a week and without the job security to demand their legally-mandated time off to vote.
Politifact also highlighted the costs of voter ID laws, which can prevent low income voters from spending up to $58 for a driver's license in order to register, as well as the disenfranchisement of ex-offenders.
Democratic voters in New York hinted at contradictions in who they support, what they look for in a candidate, and what issues were important to them.
Although Sanders was the favorite among voters who said "income inequality" is the issue that matters most to them, Clinton did better with voters who make less than $30,000 per year by 20 percentage points, 14 points under $50,000, and more than $100,000 per year by a 10-point gap.
However, Sanders was just eight points shy of Clinton among those in the middle - and he had a 21 point lead on her in the $50,000-99,999 income bracket in the Wisconsin primary a few weeks earlier, according to New York Times exit polls.
When asked what candidate quality matters most, those who said "Cares about people like me" voted two to one for Sanders versus Clinton.
Most telling, perhaps, from the New York Times exit poll, given all the money and time that went into the final weeks of the campaign, was that two-thirds of voters had already picked their candidate more than a month before election day.
You can share this story on social media: