Election clerk suspended after error 'purged over 100,000 Brooklyn voters' from rolls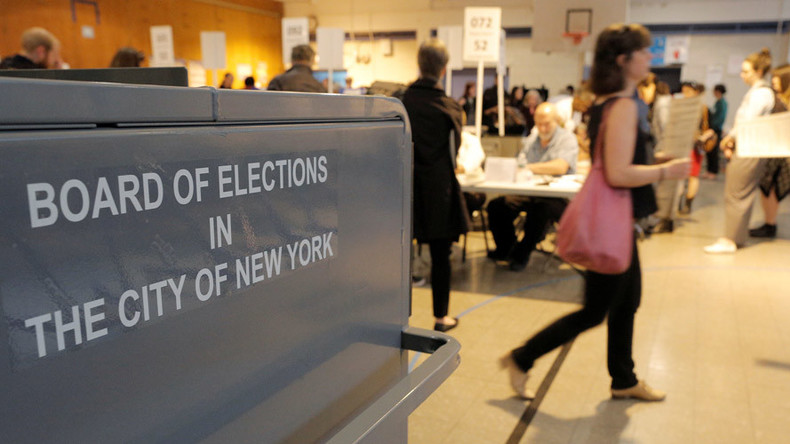 A New York City elections official has been suspended without pay after a bureaucratic error allegedly resulted in the removal of over 100,000 Brooklyn voters' names from the city rolls during the state's presidential primary, according to a report.
Sources told the Daily News that Borough Office Chief Clerk Diane Haslett-Rudianoshe skipped one of the steps meant to stop the system from purging eligible voters. The voting books need to be purged from time to time to eliminate people who pass away, move to new locations or become ineligible for other reasons. This eventually resulted in voters being improperly removed.
She was suspended "without pay, effective immediately, pending an internal investigation into the administration of the voter rolls in the Borough of Brooklyn," the city's Board of Elections (BOE) reportedly said in a statement.
READ MORE: NYC mayor orders investigation into purge of Democratic voter roll
Haslett-Rudiano's immediate suspension is set to remain in place pending an internal investigation.
"The board will fully cooperate with the investigations currently being conducted by the Office of the New York State Attorney General and the Office of the New York City Comptroller," BOE added in a news release cited by WABC News.
New York Attorney General Eric Schneiderman said his office launched an investigation after a state voter hotline received over 700 complaints.

"The administration of the voter rolls in Brooklyn is of major concern to our office and is a focus of our investigation," Schneiderman said.

At least 54,000 Democratic voters vanished from the rolls in Brooklyn on Tuesday, according to the New York Post.

Some 917,508 residents were registered as 'active' voters in November, the newspaper reported. By April, that number had plummeted to 853,687, however, meaning that more than 63,000 people would have had to be classed as 'inactive'. The number of 'inactive' voters meanwhile only grew by 9,000, leaving some 54,000 Brooklyn voters unaccounted for.
Director of the Black Institute Bertha Lewis told the New York Post that there needs to be a probe, adding.
"We know that 300K-plus have been purged without explanation," she added.
Brooklyn-born Bernie Sanders, who lost to Hillary Clinton in the New York primary, has urged officials to explain the discrepancies in the voting polls.
"It is absurd that in Brooklyn, New York - where I was born, actually - tens of thousands of people as I understand it, have been purged from the voting rolls," he said during a rally at Penn State University.
"From long lines and dramatic understaffing to longtime voters being forced to cast affidavit ballots and thousands of registered New Yorkers being dropped from the rolls, what's happening today is a disgrace," the Vermont senator added.
You can share this story on social media: