'Deeply troubled': New York's top lawyer investigates voting irregularities in primary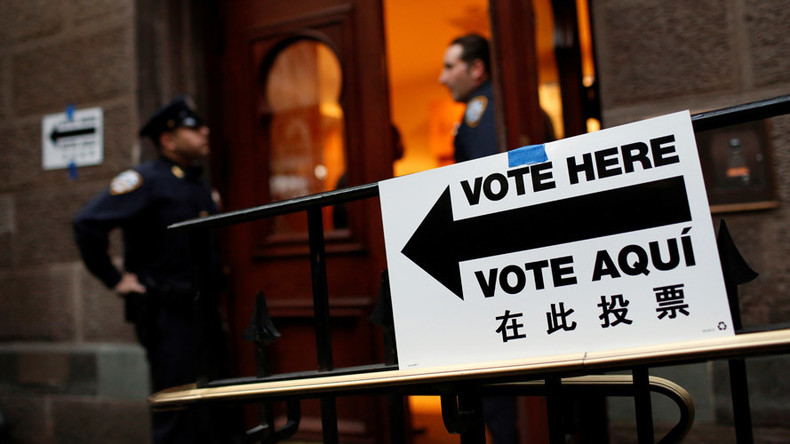 Having received over 1,000 complaints about voting problems in New York's primary, the state's Attorney General will open a probe. More than 125,000 voters are alleged to have been missing from the rolls, and over 60,000 were sent incomplete primary notices.
"I am deeply troubled by the volume and constituency of voting irregularities, both in public reports and direct complaints to my officer's voter hotline," Attorney General Eric Schneiderman said in a statement on Wednesday. "[That's] why…we have opened an investigation into alleged improprieties in yesterday's voting."
Schneiderman's announcement comes just days after a coalition of concerned voters under the name Election Justice USA filed a lawsuit against the Board of Elections, alleging voters' party affiliations had been changed without their consent, meaning they could not vote in the closed primary.
The lawsuit called for New York to switch to an open system that allows anyone to vote in the primaries, regardless of their party affiliation. The court failed to order an injunction on Tuesday, but scheduled amended complaints and briefings to be filed by the end of the month.
Meanwhile, New York City's comptroller, Scott Stringer, announced an audit of the Board of Elections over reports of irregularities in Tuesday's primary. He said that the Board of Elections had confirmed that more than 125,000 Democratic voters in Brooklyn were dropped from voter rolls between November 2015 and April 2016.
Stringer said the removals occurred "without any adequate explanation furnished by the Board of Elections."
"There is nothing more sacred to our political process and that is why after widespread reports of voters having problems casting their ballot," Stringer told reporters. "Why is it alleged that 125,000 people have been removed from the voter rolls? Why did 60,000 people receive notices to vote that didn't have the primary date? These allegations are very serious and unfortunately in New York City this is nothing new. We have long accepted the board of elections incompetence and over-politicization of this process. It is time to drill down and finally find out why it is so tough for New York City to have fair, open and honest elections."
The city's comptroller has launched an online portal to solicit information from the public on their voting experiences.
Late on Wednesday afternoon, over 70 voters rallied outside the Board of Elections in Brooklyn to protest voter disenfranchisement.
Representatives from Election Justice USA used the occasion to drop off a copy of their lawsuit at the Board of Elections, while people outside shared their experiences of voting problems.
"I was not on the voting rolls, but I was registered. I voted in 2011 and 2012. I checked on the website, everything was fine. When I went to vote, I was not on the rolls. I was given an affidavit ballot, but I was only given Republican choices. I went back to [the poll worker] and said I don't want any of these choices. I was laughed at," said Tiny Daniella. "I said I was a registered Democrat. I was given an affidavit with Democratic choices."
Daniel Jacobs from Jackson Heights, Queens, said he had changed his address with the elections board, but wasn't in the book when he went to vote.
"I went to my previous polling station in Bed Stuy, [Brooklyn] I was not in the books there. I was given an affidavit ballot. It was the only choice I had. I wasn't given information about how to fill out the form," said Jacobs.
Organizers are collecting accounts of voting problems under the hashtag #nyprimaryproblems.
Brad Friedman, host of the BradCast, a daily radio program aired on Pacifica Radio and Sputnik told RT that voters need to stop waiting until after elections to express their concerns about these problems.
"All of the problems we've seen in state after state this year have been visible miles in advance. But it seems that voters only tend to get angry after it's too late, after their favorite candidate has lost," said Friedman. "If we want real election reform, we have to demand it from public officials and from media now. Not once it's already too late."
Friedman recommends that voters check their registration status now and also urges them to let election officials know that if they don't fight to repair the Voting Rights Act, which the Supreme Court recently altered, they will be voted out of office.
In addition, he says voters should insist that mainstream corporate media report on the problems and press candidates to address them, "rather than simply over horserace banter and bull**** 24 hours a day."
"Democracy matters, but only if we the people are allowed to exercise it," said Friedman.
The American Civil Liberties Union, Common Cause New York, the Citizens Union, and New York Public Interest Research Group are all looking into what led to the problems in this last troubled primary, but have been petitioning and fighting for voting reforms for many decades with little result.
In an editorial appearing in the New York Post in the lead up to the primary, Susan Lerner, executive director from Common Cause New York said, "simply fixing New York's retrograde primary rules would be a start, but it isn't enough. A modern mobile society with a 24-hour news cycle needs one uniform set of rules for registering voters, including same-day registration, that apply equally across the country."