California dreamin' of clean air: 52% of Americans live with unhealthy ozone & particle pollution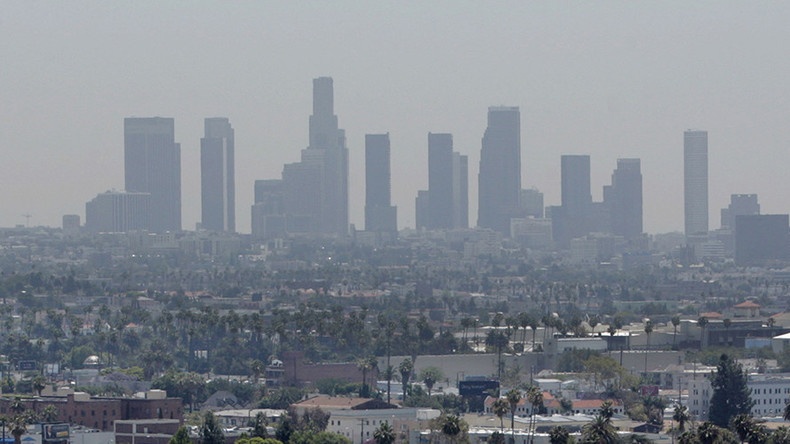 More than half of all Americans are living in counties where they are exposed to unhealthy levels of air pollution, with California topping the list, according to a new report.
Approximately 166 million Americans – or 52 percent of the country's total population – are exposed to unhealthy levels of either ozone or particule pollution, the American Lung Association found in its State of the Air 2016 report. The study measured the amount of solid and tiny particles in the air, dangerous spikes in the levels of particulate matter, plus smog or ozone pollution, from 2012 to 2014.
The previous year's report found that about 40 percent of Americans were living with unhealthy air conditions.
The report noted that the US has seen its level of ozone and particle pollution drop over the decades thanks to the Clean Air Act and other government regulations, but warned that too many Americans are still exposed to levels of pollution that can cause asthma, lung cancer, heart attacks, and premature death.
"There are still nearly 20 million people in the United States that live with unhealthful levels of all three measures of air pollution the report tracks: ozone, short-term and year-round particle pollution," said Harold P. Wimmer, national president and CEO of the American Lung Association, in a statement.
"Everyone has the right to breathe healthy air," he added. "We simply must do more to protect the health of Americans."
Notably, 16 of the most polluted cities actually saw their lowest levels of year-round particle pollution in the report's history, but a changing climate has resulted in erratic weather events as well as spikes in short-term particle pollution.
"The rise in short-term particle pollution provides current examples of how major changes in drought and rainfall are already affecting public health," the report reads. "Wildfires and drought, along with high use of wood-burning devices for heat, coupled with stagnant weather patterns that concentrated pollution in some areas, contributed to the extraordinarily high numbers of days with unhealthy particulate matter in 2012–2014."
The majority of the cities with the highest level of air pollution were located in California. Six out of 10 cities most affected by short-term particle pollution were in the Golden State, while the same could be said for seven out of 10 cities most affected by year-round particle pollution. In both cases, Bakersfield topped the list due to pollution from highway traffic, diesel trucks, and farm equipment, the Los Angeles Times reported.
Six out of 10 of the cities suffering from the most ozone pollution were in California, with Los Angeles the worst off, followed by Bakersfield.
Overall, almost 80 percent of the people in California (about 32 million) live in counties affected by unhealthy levels of air pollution, according to the LA Times.
Only four cities in the US had zero days of unhealthy ozone or short-term particle pollution, the report stated: Salinas, California; Honolulu, Hawaii; South Burlington, Vermont; and Elmira-Corning, New York.
You can share this story on social media: