'Getting money out of politics worth arrest' – Ben & Jerry's co-founders on their Capitol detention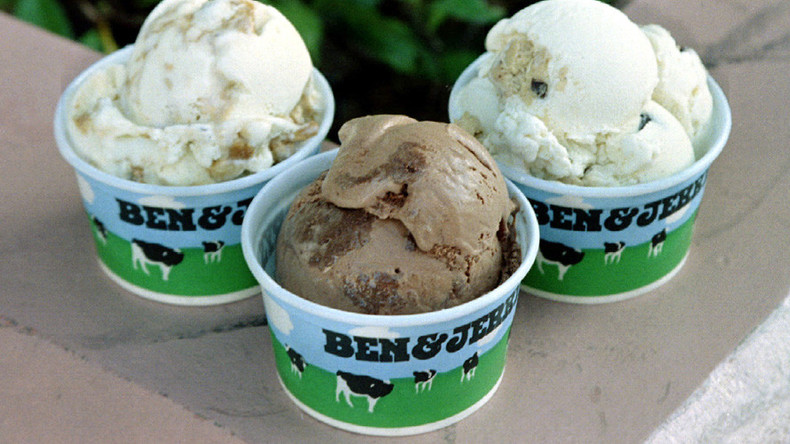 Standing up against the corruption of US politics by corporate money is worth being arrested for, Ben Cohen and Jerry Greenfield, the co-founders of Ben & Jerry's ice cream, told RT after being detained at the Capitol with a group of 300 protesters.
READ MORE: 'Americans not buying democratic mask of US elections anymore' (OP-ED)
Monday's mass arrest of hundreds of people in the US capital was "a culmination of a week of protests that began with a march from Philadelphia to Washington DC," Ben Cohen, the ice cream brand's co-founder, said.
The Democracy Awakening movement, which Ben Cohen and his business partner Jerry Greenfield support, is not affiliated with any party or presidential candidate, but rather "working to get money out of politics and make voting accessible to minorities and low income people."
The duo confirmed that they were well aware that they could be busted for joining the unauthorized rally.
"I think we, along with the rest of them (the protesters), decided that this issue is so important that we needed to use the loudest voice that a citizen has, which is to participate in civil disobedience and get arrested," Cohen explained.
"Yep, there are times you need to take to the street. It's not enough simply to write letters, to sign petitions. You have to put your body on the line. It's that important," Greenfield added.
The Vermont-based ice cream makers stressed that they are alarmed by the new US political reality in which "money has corrupted our democracy."
READ MORE: RT's 'Redacted Tonight' host Lee Camp arrested at Democracy Spring protest
"We have a government that is paid for, put in office by the corporations and the 0.1 percent. And that's who they represent. They no longer represent the people. It's time to create the America that we always thought we have," Cohen explained.
The Democracy Awakening protests are "a beginning of something very major," in Cohen's opinion.
Greenfield added that the movement is "bringing together groups that are working on climate issues, immigration, healthcare, voting rights. It's a real coming together of groups that don't typically work together."
And all those forces are starting to see that money in politics is the root of evil "that we really must be attacking," he concluded.
The US Capitol Police said in a statement that the protesters had been arrested for unlawful demonstration activities, processed on the scene, and subsequently released.
READ MORE: More arrests at US Capitol as Democracy Spring meets Black Lives Matter (VIDEO)
You can share this story on social media: