RT's 'Redacted Tonight' host Lee Camp arrested at Democracy Spring protest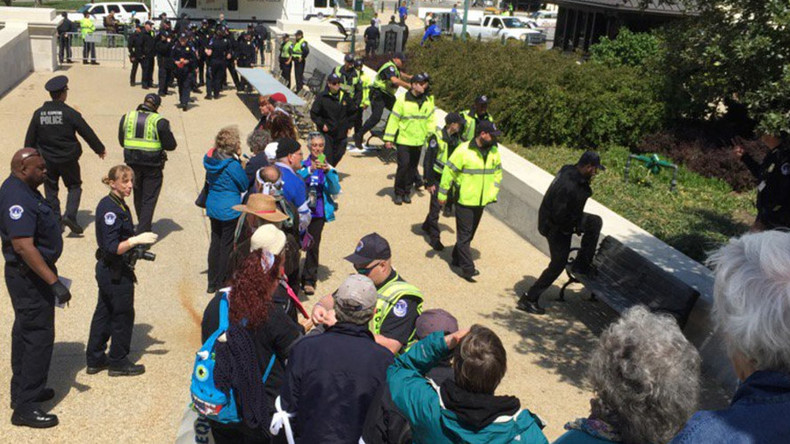 Lee Camp, the host of RT America's 'Redacted Tonight' comedy program, was detained by police while attending the second day of the "Democracy Spring" protest in Washington, DC.
His arrest occurred as hundreds of protesters, many of whom are elderly Americans, marched on the US Capitol and demonstrated in a mass sit-in.
The demonstrators themselves are part of a 10-day protest and are hoping to push lawmakers to pass laws addressing the influence of money on politics. Before going into event, many of the activists knew that getting arrested was a possibility. Camp said he chose to be arrested at the event.
"There's a lot of people that are standing up and willing to get arrested to call attention to how money has corrupted our entire system," Camp told RT over the phone, while he was in police custody.
Camp said that he was taken to a holding area off to the side of the capitol along with other activists after his arrest. Unlike on Monday, he said police did not tie the hands of those they detained.
Despite being arrested, Camp noted that those being held were still "pretty cheerful," adding that people are excited to be a part of the process. However, he criticized the mainstream media for ignoring the event.
"There continues to be no mainstream media reporting even though yesterday was apparently the largest number of arrests at the capitol ever," he said. Monday's event culminated in the arrest of more than 400 people, overflowing jails in DC and leaving police unsure about how to handle the situation.
"Yet that still is not, apparently, worthy of being covered on our mainstream media," Camp said.
According to Camp, the Democracy Spring protest is meant to address the billions of dollars spent on political campaigns. He cited a Princeton University study that found the US is now an oligarchy rather than a democracy, saying the voice of the people is being ignored.

"The majority opinion is not actually acted on," the 'Redacted' host said. "It's merely the opinion of the government, the wants and needs of the businesses – the corporations – that's actually acted upon in the government."
By mid-afternoon, Camp was released from custody.
Democracy Spring itself has called on Congress to pass laws reducing the power of corporate money and the wealthy. It wants legislation offering public funding for political candidates, updating the Voting Rights Act of 1965, and a constitutional amendment overturning Citizens United, which granted corporations the ability to freely spend in US political campaigns.
You can share this story on social media: