Giant Trump bobblehead dancers banned from school show (VIDEO)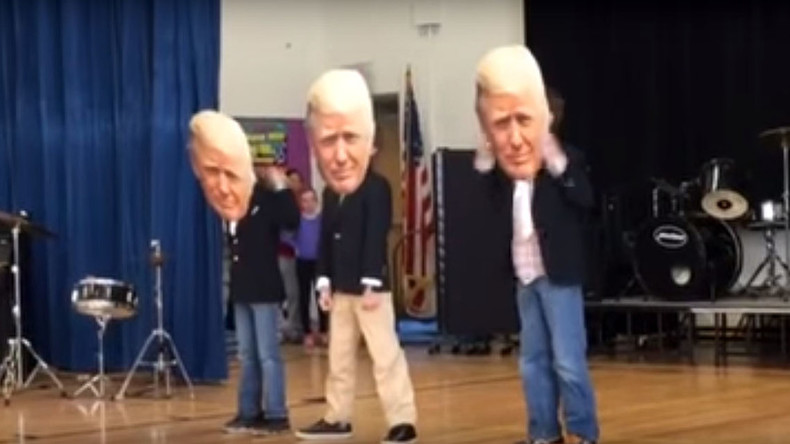 A trio of giant Trump bobblehead dancers have been banned at an elementary school in Wellesley, Massachusetts, the small New Englander town where Hillary Clinton attended university.
While Fiske Elementary School administrators closed the proverbial curtain on the evening performance of the Dancing Trumps, video of the fifth graders' matinee premiere became a hit online, garnering more than 12,000 views on YouTube.
Christian Mattaliano, Marc Maggiacomo, and David Maggiacomo were given an ultimatum – either lose the Trump masks or miss the second show.
One of the mothers, Maryellen Maggiacomo, defended the artwork saying, "The bobblehead is the act," and the boys had to miss out. The masks are official Trump memorabilia and cost $70.
The trio had performed a similar giant-headed dance at last year's event, wearing giant masks of their retiring principal. They even earned themselves a name – the Bobblehead Boys.
It isn't clear whether the complaint was made by a Trump supporter or one of Hillary Clinton's fellow "Wellesley girls" who is disgusted at the sight of the billionaire.
A second act featuring a Trump-Marco Rubio dance-off was also banned from the second show after a parent reportedly took offense to the act for being critical of the Republicans, the Boston Globe reports.
MORE: