George Clooney lambastes big money in politics after hosting $353k Clinton fundraisers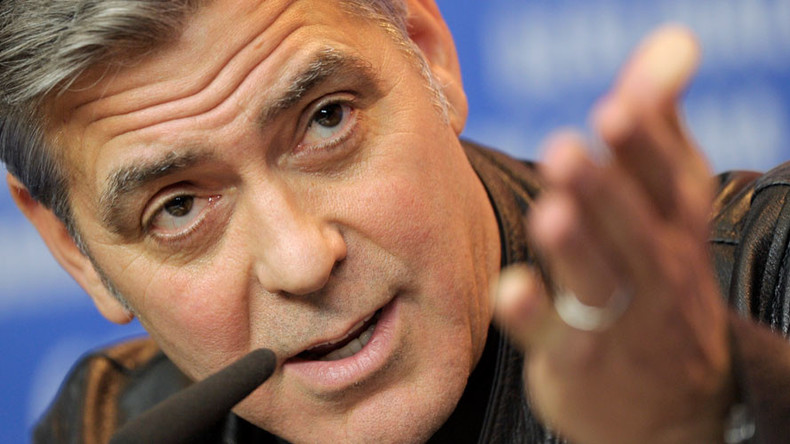 George Clooney was questioned about two $353,000-per-couple fundraisers he hosted for Democratic presidential candidate Hillary Clinton on the NBC's 'Meet the Press' Sunday.
When moderator Chuck Todd asked Clooney about the Sanders campaign calling the entrance fee "obscene", the Oscar-winning actor and multimillionaire agreed.
"Yes, I think it's an obscene amount of money," Clooney said. "I think, you know, that we had some protesters last night when we pulled up in San Francisco, and they're right to protest, they're absolutely right, it is an obscene amount of money."
Protesters threw dollar bills at the Clinton motorcade when she arrived at the Clooney event, in an effort to demonstrate the absurdity around campaign finance laws.
The top tier price gave a lucky pair access to Clinton, Clooney, and his wife Amal at either an event in San Francisco or the couple's LA mansion the following night.
The money raised, estimated to be $15 million, goes to the Hillary Victory fund, a joint fundraising committee formed by her campaign, the Democratic National Committee headed up by Clinton supporter and Congresswoman Debbie Wasserman-Schultz, and 32 state parties.
This allows the campaign to circumvent limits on individual donations to candidates, raising the maximum individual cap to $660,000 per person over two years, as reported by RT.
The Washington Post referred to the deal as the "earliest creation of a joint fundraising committee between a presidential candidate and the party, and it would be the biggest ever, thanks to a 2014 Supreme Court decision that knocked down a cap on how much donors could give to federal campaigns in a single year."
Clooney claimed the money raised "is split between DNC, Clinton, and state parties", but according data from the Center for Responsive Politics as cited by Politifact, her campaign received 63 percent of money raised in 2016, in addition to $6.7 million for ads "that mostly looked like Clinton campaign ads, as well as $5.5 million in direct marketing", reports Politico.
Clooney also claims Democrats are forced to raise money this way in order to compete with Republicans, mentioning the Koch brothers to bolster his point.
Read more: New book finds father of Koch brothers built Nazi's third largest oil refinery
However, the Sanders campaign, which refuses to accept contributions from billionaires, has repeatedly surpassed Clinton's monthly fundraising levels, mostly through small donations from individuals.
The 54-year-old actor believes that if elected, Clinton would reverse the controversial US Supreme Court decision known as Citizens United and put a stop to big money in politics.
As usual @SenSanders far more clearly against Citizens United. Hillary says she would support Garland who is pro-Citizens United. #DemDebate

— Cenk Uygur (@cenkuygur) April 15, 2016
However, Glenn Greenwald points out in The Intercept, the Clinton campaign's argument in favor of her fundraising methods, particularly the money she receives from Wall Street and other "influential" sources, mirrors the majority Citizens United ruling: "Expenditures, including those made by corporations, do not give rise to corruption or the appearance of corruption".
Clooney said he looks forward to getting "this obscene, ridiculous amount of money out [of politics] so I never have to do a fundraiser again."
Sanders made it clear that his campaign's comments were not a criticism of the actor.
"It's a criticism of a corrupt campaign finance system where big money interests, and it's not Clooney, it's the people who are coming to this event that end up having undue influence over the political process," he said, adding that he had "a lot of respect for (his) honesty and integrity on this issue."
If Sanders does become the Democratic nominee, Clooney said he would support him.
His comments about his protesting roots made during the interview suggest he has a lot in common with Sanders.
"I'm a protester from way back. I got arrested in DC a couple years ago with my father protesting," he said. "I'm a big believer in protests. I think it matters from the '56 Montgomery bus protest to the Apartheid protests that I was a part of when I was a young man."
You can share this story on social media: