New book finds father of Koch brothers built Nazi's third largest oil refinery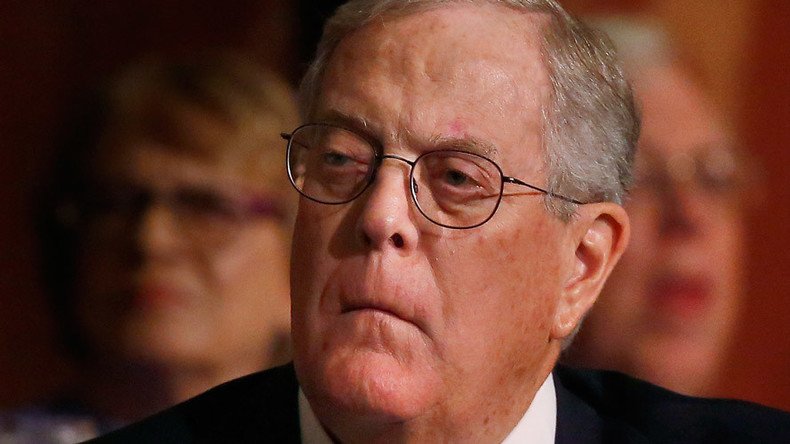 A new book detailing the role wealthy families have played in shaping conservative US politics has found that the father of multi-billionaires and political donors David and Charles Koch built an oil refinery in Nazi Germany, aiding the German war effort.
Jane Mayer's "Dark Money" details how, in 1934, Fred Koch, in partnership with William Rhodes Davis, an American businessman who has previously been called a "Nazi Agent of Influence", drew up engineering plans for a large oil refinery near Hamburg, Germany and oversaw its construction.
Adolf Hitler gave the refinery his personal blessing and it went on to play a vital role in the Third Reich's war effort. It was the third largest refinery under Nazi control and supplied fuel to their warplanes.
Koch's Nazi oil refinery is missing from the history posted on the family company's website, while the company also refused to participate in Mayer's book due to "deep disagreements and strong objections to her interpretation of the facts and their sourcing," the New York Times reports.
Mayer, a writer with the New Yorker, also found that Fred Koch hired a "fervent" Nazi to help toilet train his eldest sons, the Washington Post writes.
Mayer's book looks into how Fred Koch's political leanings and admiration of the German ethic at the time has shaped the political dealings of his sons today and resulted in the souring of relations between the four brothers.
A deposition Mayer uncovered from 1982 details how David and Charles blackmailed their eldest brother Frederick by threatening to tell their father that Frederick was gay if he didn't give up his shares.
David and Charles currently own 84% of Koch Industries, which Forbes says has an annual revenue of over $115 billion, and are known for funding various political ventures on the right through nonprofit organizations, think tanks, and advocacy groups.
READ MORE: Koch brothers prepared to unleash nearly $1bn leading up to 2016 election
Mayer outlines how she believes their secret funds are shaping various issues at the local, state, and national level, resulting in the development of anti-government and anti-tax policies, which in turn helps boost the revenue of already rich companies.
Mayer's investigation comes a decade after The Guardian uncovered a link between the financing of Hitler's rise to power and the grandfather of former US president George W. Bush.
Documents revealed that Prescott Bush, a former US senator himself, was a co-founder of and director with the Union Banking Corporation (UBC) in New York, which helped represent the US interests of Fritz Thyssen, a German industrialist who helped finance Hitler in the 1930s by routing millions of dollars' worth of gold, fuel, steel, coal, and US treasury bonds to Germany through UBC.
Bush was also a board member of at least one company which the newspaper found to be part of a "multinational network of front companies" that enabled Thyssen to move his assets around the world.
You can share this story on social media: