Koch brothers prepared to unleash nearly $1bn leading up to 2016 election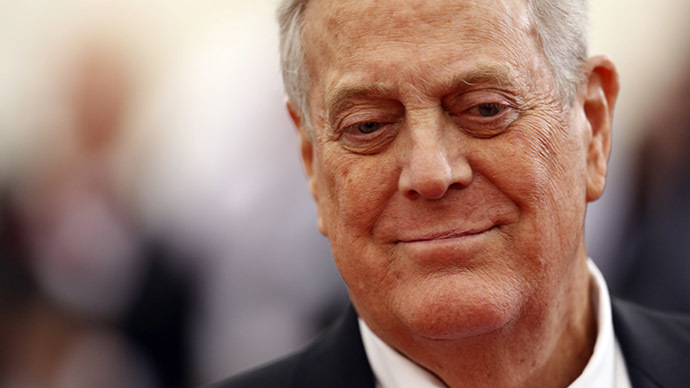 Conservative American oligarchic industrialists Charles and David Koch plan to raise $889 million to spend on political operations ahead of the 2016 election. The sum would be more than twice as much as the Koch network spent during the 2012 election.
The budget figure was released Monday in Palm Springs, Calif., to about 450 donors and allies who attended the Koch network's annual winter meeting of Freedom Partners Chamber of Commerce, the non-profit organization at the epicenter of the Kochs' political advocacy.
As head of the vast network of politically-conservative non-profits, Freedom Partners funnels millions of dollars that often pass through 'dark money' groups that -- thanks to the 2010 US Supreme Court decision known as Citizens United -- are legally allowed to raise and distribute unlimited amounts of money while withholding the identities of donors.
"We have never seen this before," Sheila Krumholz, head of the non-partisan Center for Responsive Politics, said of the Koch budget. "There is no network akin to this one in terms of its complexity, scope and resources."
To put $889 million into perspective, the Republican National Committee (RNC), the campaign fundraising arm of the Republican Party, raised and spent $400 million during the 2012 election cycle.
We now have three parties: Republican, Democratic and Koch. http://t.co/QQLL6b1EzQpic.twitter.com/LJEuOrfAmZ

— Sean McElwee (@SeanMcElwee) January 27, 2015
Freedom Partners, meanwhile, spent almost $240 million during the 2012 campaign season, funding nearly three dozen right-wing organizations. The network intended to spend $290 million during the 2014 midterm election, according to the Daily Beast.
The cascade of wealthy funders that attended the weekend conference were feted by four potential Republican presidential candidates -- US Sens. Rand Paul, Ted Cruz, Marco Rubio, and Wisconsin Gov. Scott Walker. At least six US senators were on hand to thank donors, according to reports.
On Saturday, Charles Koch addressed the conference, claiming Freedom Partners' work has been "largely defensive to slow down a government that continues to swell and become more intrusive."
"Americans have taken an important step in slowing down the march toward collectivism," Koch said, according to excerpts released by the organization. "But as many of you know, we don't rest on our laurels. We are already back at work and hard at it."
READ MORE: Oligarchy, not democracy: Americans have 'near-zero' input on policy – report
Democrats -- many of whom will support former Secretary of State Hillary Clinton's formidable fundraising machine should she choose to run for president in 2016 -- denounced the Kochs' planned largesse.
"What an obscene amount of money," said Ben Ray, a spokesman for American Bridge, a Democratic-aligned super PAC, according to USA Today. "It just goes to show the kind of cold calculation that the Kochs will apply to protect their bottom line."
"If they are spending more than the RNC, I know exactly who the (Republican) presidential candidates will listen to," Ray added.
Operations of Koch Industries, the second-largest private corporation in the US, include oil refining and distribution, manufacturing of a wide variety of consumer products, cattle ranching, and chemical production. The brothers' top political priorities rest in savaging government regulations -- especially environmental restrictions -- and undoing the Affordable Care Act, known as Obamacare.
I don't understand the Koch Bros political spending. If I had that much money I'd built my own city. With my own laws. In space.

— Agent Glory (@agentglory) January 27, 2015
You can share this story on social media: