Cannabis 'smell test' used by police to raid house & assault 'suspects' (VIDEO)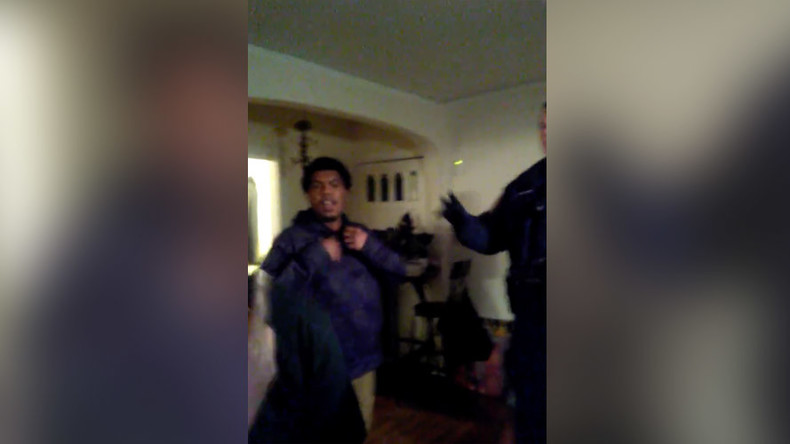 Southern-style justice captured on camera shows police in North Carolina raiding a family home and arresting four people after they allegedly smelled cannabis.
In a now-deleted Facebook post, Vera McGriff detailed how eight police officers "bum rushed" her home in Durham city on April 8, after she denied them entry for failing to produce a search warrant, which is a Constitutionally-protected right.
Don't let the police in your house without a warrant and don't speak to them without a lawyer. End of discussion.

— Alby (@Alby) May 12, 2014
The video, which has since gone viral, shows what happened next when police raided her home.
Lots of screaming can be heard and one man is seen limping after police hit him with a baton, which they admit in their own report.
Police then walk around the house searching for the drugs they supposedly had smelled.
The 48-year-old mother told the local Durham newspaper Indy Week that they were "subject to physical assault and terrorizing actions from a gang of police officers that included assaults with batons, an officer's gun, Tasing, and over four hours of handcuffed detainment."
Police can be heard shouting at the men in the house as they arrest them, with some of the men on the ground being handcuffed. The recording cut off shortly after.
"Everybody was [T]ased, one officer hit my son in the face with his Glock 9, we were choked, kicked, thrown down on the floor, this is harassment," McGriff wrote in the original post. "It felt like I was surrounded by an unruly gang that meant me and my family nothing but harm."
"The terror, by these officers, did not stop when my 11-year-old son, recently home from the hospital, began to vomit and seize," added McGriff. "Nor did they stop when my 10-year-old daughter screamed and called out to her mommy in fear. They did not care about any of us as human beings. We all sat in handcuffs for 4-5 hours while they waited for the search warrant."
READ MORE: Police 'sexually assault' black couple during roadside cavity search (VIDEO)

When police initially entered the house at 10:30p.m., they did not have a warrant and only received one at 12:50 a.m., after they had already arrested and detained everybody in the house, the News & Observer reported.
Durham Police said they were conducting a follow-up investigation on one of the residents, Khadir Cherry, who had been arrested on April 4 for allegedly selling marijuana, something that's now legal in a number of other US states.
When McGriff opened the front door, police claimed there was "a strong odor of marijuana" inside.
Police also say the video doesn't show two officers being assaulted by the residents, with one of the police struck in the shoulder, although a local mainstream media outlet did report that more prominently than McGriff's video.
READ MORE: Beyond Ferguson: The reality of Black persecution & colonization in 2016
Officers accuse Cherry of trying to grab one of their weapons and refusing to obey so-called lawful orders during the incident. He now faces a number of charges including intent to sell and distribute, assault on a government official, resisting a public officer, and possession of marijuana paraphernalia.
One of the other men in the house, Raynell Hall, was charged with assault on a government officer and resisting a public officer, while Jahmon Cedeno was charged with assaulting a government official.
The Durham Police Department is now "investigating all matters concerning this incident including the use of force," which it says is "standard protocol."
McGriff has called for such an investigation to use "a racial equity lens" as well as disbanding the Durham's High Enforcement Abatement Team (HEAT) and sacking five of the officers involved.
READ MORE: Inhale to the chief: Pot activists light up outside the White House
The controversial raid comes just a month after a study about Durham's police department that found Black male drivers were disproportionately pulled over more often between January 2010 and October 2015.
Clarence Birkhead of the Durham Committee on the Affairs of Black People said at the time that while the report was welcomed, it merely confirmed "something everybody here has known for years."
The US Supreme Court unanimously ruled in 2013 that authorities could use dogs to sniff out illegal drugs, but in a number of states since then, judges have ruled that such a mechanism should not be relied on solely for prosecution as it is flawed.
Judges have also repeatedly ruled that police need more evidence than merely smelling marijuana to raid a house.
Arizona Judge Peter Eckerstrom wrote last year that since people may use medical marijuana, which is not yet legal in North Carolina, "scent alone does not disclose whether a crime has occurred."
Similarly, in 2014, Justice Barbara Lenk of the Massachusetts Supreme Judicial Court wrote: "The odor of burnt marijuana alone cannot support probable cause to search."