Inhale to the chief: Pot activists light up outside the White House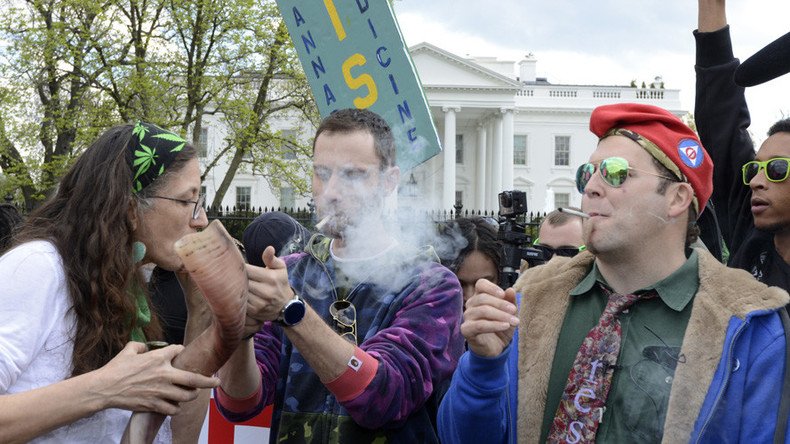 Hundreds of demonstrators gathered outside the White House to smoke marijuana this weekend, calling on the government to legalize the drug.
Protesters carried a 51-foot inflatable 'joint' and 'sparked up' Saturday promptly at 4:20p.m., asking President Barack Obama to remove cannabis from the "Schedule 1" list of controlled substances, which also includes harder drugs such as heroin.
@WhiteHouse@POTUS End marijuana prohibition and reduce abuse rates by 25%. Provide patients with a safe alternative. Quite simple really.

— The Supreme Dickhead (@SupremeDickhead) March 29, 2016
One activist said thousands who have been arrested for possession of the drug should also be pardoned.
"What we want here today is Obama, through the stroke of a pen, through executive order to deschedule marijuana, then we want that deschedulization to pardon those arrested for marijuana and we want 50 states to recognize the medical use of marijuana," he told Ruptly.
READ MORE: Vets get free marijuana in Colorado Springs to fight pain & PTSD
Smoking marijuana in public is still illegal in Washington, DC, but possession of up to two ounces is legal.
Despite this, African-Americans are often routinely targeted and racially profiled by police for possession of pot.
Obama's cannabis smoking days with his "Choom gang" might be over, but his crackdown on those using it for medicinal purposes has been a real 'bummer, man.'
There were over 100 raids on marijuana dispensaries during his first three years in office.
READ MORE: Majority of Americans support legalizing marijuana – polls
In California where using medical cannabis is legal, Obama's Drug Enforcement Administration (DEA) was told to back down from raiding pot dispensaries by a federal court.
The ruling followed the case of Lynette Shaw, who was forced to close her business for four years, despite not breaking the law.
You can share this story on social media: