Majority of Americans support legalizing marijuana – polls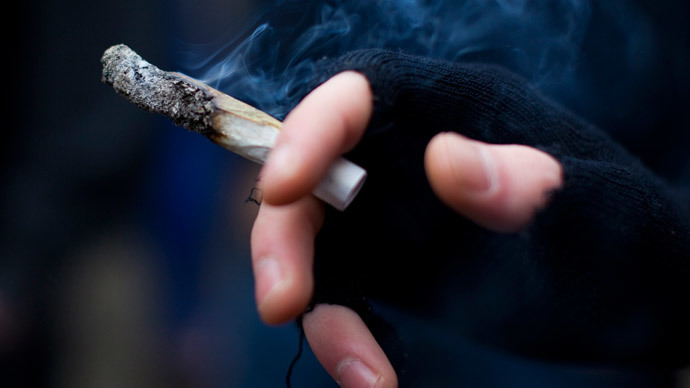 Results from two new polls found the majority of Americans support making cannabis legal, with the large majority of young adults crossing party lines and states to support the idea.
Nationally, 53 percent of Americans support legalizing marijuana, according to a new Pew Research Center survey. The survey found that young adults aged 18-34 were more supportive, at 68 percent, than older voter demographics such as the 35-50 age group, which registered support at 52 percent. Younalong g adults were more supportive across party lines as well.
READ MORE: 'Major hypocrisy': US govt-funded agency admits marijuana can kill cancer cells
When the survey was broken down party lines, pollsters found that 75 percent of Democrats who call themselves liberal favor legislation, while 48 percent of Republicans who identified as moderate or left-leaning support making marijuana legal. When Republicans who identified as conservative were asked, they were against legalization at a rate of two-to-one.
Pew found that more people are likely to move from opposition to support than the reverse. They found 30 percent said they had always favored legalization, while 35 said they've always opposed it.
"The more that people learn about marijuana and look at the benefits of legalization, the more likely they are to support reform," Tom Angell, chairman of Marijuana Majority, told The Huffington Post. "Our opponents sure do have a lot to say about what they see as the benefits of continuing prohibition, but voters don't want to hear it."
Pew found that when people were asked to say in their own words why they favor or oppose legalizing marijuana there were very different perspectives. A common theme noted by those opposing legalization was of the danger of marijuana – the damage caused to people and society generally – while supporters mentioned the health benefits and see it as no more dangerous than other drugs.
READ MORE: Smoked dry: Massive marijuana cultivation has 'lethal' impact on California water supply - study
Critics of the legalize marijuana movement say that millions of dollars are being spent to try to "normalize marijuana."
"[It] is becoming a bit of a David-and-Goliath story here, but given the widespread opposition to legalization among the scientific, medical and business world, no one should count anti-legalization groups out," Kevin Sabet of the anti-legalization group Smart Approaches to Marijuana said to the Huffington Post.
As for the federal government's role and whether they should interfere with state choices, 64 percent of independent callers told Pew they were against government intrusion, as were 58 percent of Democrats and 54 percent of Republicans.
The Pew's telephone survey was conducted March 25 – 29 and involved more than 1,500 adults living in all 50 US states and the District of Columbia.
READ MORE: Federal marijuana laws can change if enough states reform - Obama
In a related survey, Quinnipiac polled voters in two swing states, Iowa and Virginia, and found younger voters strongly supporting legalization the use of recreational marijuana. As with the Pew survey, it found large majorities in the different demographic groups also favoring legalization on a state level. Seventy-five percent of voters aged 18-34 in Virginia and 62 percent in Iowa support legalizing the drug.
Meanwhile, voters in Virginia were 86 percent in favor of medical marijuana legislation, while 87 percent backed similar measures in Iowa. There was less support for recreational marijuana, but still enough to maintain a majority in Virginia at 54 percent. Just 47 percent of Iowans favor legalization, the poll found.
A previous poll by Quinnipiac found voters in another three swing states were in favor of medical marijuana legislation – 84 percent of Floridians and Ohioans, and 88 percent of voters in Pennsylvania. Only small majorities supported recreational use.
To date, 23 states have legalized marijuana for medical purposes. Four states, along with the District of Columbia, have legalized recreational use.
You can share this story on social media: