Pipeline leaks will continue due to reliance on bad welds – TransCanada whistleblower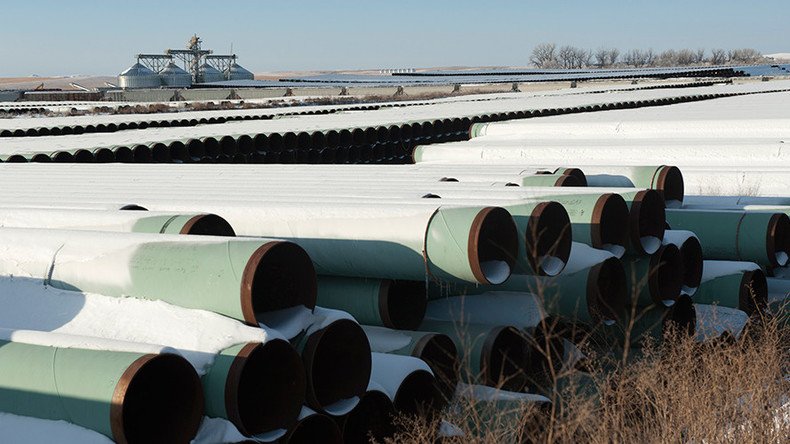 Oil leaks like the latest from TransCanada's Keystone pipeline often have their origins in "political decisions" made by pipeline managers who advocate use of substandard building materials and transition welds, a TransCanada whistleblower told RT.
The 16,800-gallon oil spill in South Dakota earlier this month has renewed suspicion of the company's pipeline safety practices. The US Pipeline and Hazardous Materials Safety Administration has said the spill was likely caused by a leak at a transition-weld point, where a pipe is connect to another, thicker pipe.
Evan Vokes is a former TransCanada Corp. materials engineer who has testified to the Canadian Senate that the company engages in a "culture of noncompliance," with "deeply entrenched business practices that ignored legally required regulations and codes" and threaten public safety. Vokes has called transition welds risky, adding that accurate x-rays of a transition weld are difficult even for seasoned inspectors.
The South Dakota leak was found by a landowner, which is not surprising, Vokes told RT America in a recent interview, since it's usually the general public that finds leaks like this.
Passerby or land owners are usually more reliable detectors of pipeline ruptures than automated leak detection systems employed by pipeline operators like TransCanada, he added.
Keystone "did leak, and the pipeline was never supposed to leak," Vokes told RT. A culture of cutting corners, as Vokes has indicated as a TransCanada whistleblower, may have led to this spill.
"A lot of these leaks have their origins in political decision by managers," he said. "And if you can have a director of engineering make a decision to intentionally violate the code, then ask other people to sign-off on his decision, this is going to be the outcome sooner or later. Additionally, if I'm paying a professional engineer at a regulator to go out and visit a pipeline site and determine whether or not the pipeline is being constructed with code, if they find it not being constructed to code, they have an obligation to shut down construction, not let it continue."
TransCanada has not shut down the pipeline, deciding to continue operation at reduced pressure. This leak is contained, Vokes said, but the use of transitional welds throughout the Keystone pipeline suggests more leaks will occur.
"The problem is that there's hundreds of these types of joints in this pipeline," Vokes said.
"This project made the decision, consciously, that they thought they'd save some money, and they would go as cheap as they could, so they bought cheap pipe and they used transitional welds."
Bad welds, Vokes has said, will continue to cause leaks.
"Bad welds can result in a catastrophe," Vokes told DeSmogBlog. "A tiny crack in a weld can leak for years before it is found, because leak detection systems are only capable of detecting leaks when a pipeline's volume drops by two percent in the course of a day."
Vice News reported that the section of pipe that ruptured in South Dakota was manufactured by the company Welspun, which has a history of fielding allegations that it makes substandard products.
TransCanada told Vice News it plans to conduct a full review of the pipeline's integrity.
"We are developing an action plan in collaboration with the regulator that will examine things such as construction records, in-line inspections with sensitive tools that run inside sections of pipe and more," company spokesman Mark Cooper said.
The Obama administration blocked a section of TransCanada's Keystone XL pipeline in November citing environmental concerns. TransCanada then sued the Obama administration in January, saying the rejection was "arbitrary and unjustified." In its claim, TransCanada accuses the US government of breaching the North American Free Trade Agreement (NAFTA). It is seeking to recover $15 billion that it lost as a result of President Obama's rejection of the pipeline, which would have brought crude oil from Alberta, Canada, to North Dakota and through to the Gulf of Mexico.
Keystone XL would have moved as many as 830,000 barrels of oil a day over 1,700 miles from the oil sands in western Canada through six US states to Steele City, Nebraska, where it would have linked with existing infrastructure to bring the oil to refineries on the Gulf Coast.
You can share this story on social media: