US built 'equivalent of 10 Keystones' since 2010 – report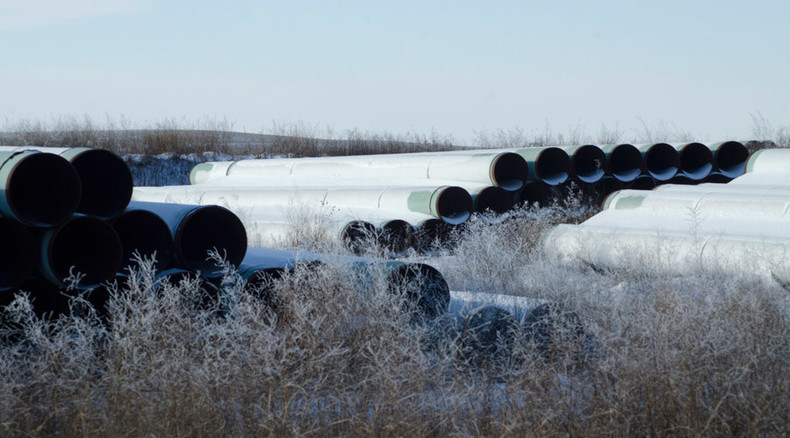 Critical reaction to President Barack Obama's blocking of the Keystone XL pipeline from the oil industry amounted to a shrug, perhaps because the US has constructed enough pipeline in the last five years to equal 10 Keystone projects, a new report stated.
Keystone XL's "deliberation process has gone on so long that the market has evolved and adapted in the meantime," Mark Smith, director of commodity research at ClipperData, told Market Watch. "The need for it is less urgent now than when it was originally first commissioned."
During the seven years TransCanada was applying to the US State Department to extend its Keystone pipeline across the US border, other pipelines expanded rapidly within the US, according to a report by the Financial Post. From 2009 to 2013, more than 8,000 miles of piping was built. In 2014, mileage increased over 9 percent to reach 66,649 miles, Association of Oil Pipe Lines (AOPL) data shows.
"While people have been debating Keystone in the US we have actually built the equivalent of 10 Keystones. And no one's complained or said anything," AOPL spokesman John Stoody told the Post.
TransCanada had sought to build 875 miles for its Keystone XL. On Monday, it asked the State Department to discontinue its application review process, but that didn't happen. Secretary of State John Kerry and Vice President Joe Biden stood alongside the president on Friday for his eight-minute prepared remarks agreeing with State Department's rejection of the application.
"Shipping dirtier crude oil into our country would not increase America's energy security," Obama said.
In Canada, the decision was seen as political. Saskatchewan Premier Brad Wall viewed this as the Obama administration putting politics "ahead of its relationship with its most important trading partner, Canada."
President and chief executive of the American Petroleum Institute, Jack Gerard, said, "It's ironic that the administration would strike a deal to allow Iranian crude onto the global market while refusing to give our closest ally, Canada, access to US refineries" in a media conference call.
The number one source of crude oil for the US is Canada. In August, the amount of Canadian crude oil shipped to the US rose to a record 3.4 million barrels a day. Since 2010, crude oil imports from Canada have risen by a million barrels per day.
The US-based oil industry is growing too. A Houston-based pipeline company, Enterprise Product Partners, projected last week that by 2018 it will have spent a total of $7.8 billion on such projects. Shipping company Magellan Midstream Partners, based in Tulsa, Oklahoma, announced this week that it had increased its budget to purchase capital and equipment to move oil from $200 million to $1.6 billion.
Meanwhile, Enbridge, another Canadian energy transportation corporation, has already doubled the quantity of oil it delivers to the US without an application process, as its routes don't cross a national border.
You can share this story on social media: