'Arbitrary, unjustified': Keystone XL pipeline builder sues US government over rejection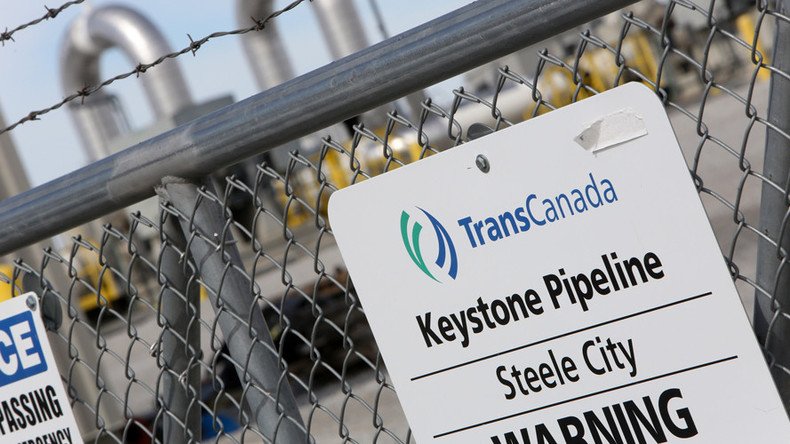 The Keystone XL pipeline's developer has sued the Obama administration for blocking the controversial project. Seeking $15 billion in costs and damages, TransCanada says the rejection was "arbitrary and unjustified" – and unconstitutional.
The corporation has filed two separate legal actions: A Notice of Intent to make a claim and a lawsuit in the US Federal Court in Houston, Texas.
In its claim, TransCanada accuses the US government of breaching the North American Free Trade Agreement (NAFTA). It is seeking to recover $15 billion that it lost as a result of President Obama's rejection of the pipeline, which would have brought crude oil from Alberta, Canada, to North Dakota and through to the Gulf of Mexico.
"The NAFTA claim asserts that TransCanada had every reason to expect its application would be granted as the application met the same criteria the US State Department applied when approving applications to construct other similar cross-border pipelines – including the existing Keystone pipeline, which was approved in under two years, in contrast with the seven years the Administration took to make a decision on Keystone XL," TransCanada said in a statement.
Arguing that its Keystone XL pipeline wouldn't significantly impact the environment, the corporation accused President Obama of making "a symbolic gesture" to climate change advocates when he blocked the pipeline.
In its lawsuit, TransCanada asserted that the "decision to deny construction of Keystone XL exceeded his power under the US Constitution."
"In its decision, the US State Department acknowledged the denial was not based on the merits of the project," TransCanada said. "Rather, it was a symbolic gesture based on speculation about the perceptions of the international community regarding the Administration's leadership on climate change and the President's assertion of unprecedented, independent powers."
TransCanada claims that President Obama violated the US constitution when he vetoed Congress' bipartisan bill approving the Keystone XL pipeline in 2015.
Obama rejected the project in early November over environmental concerns and lack of impact on the US economy. The ban finished the seven-year battle over the pipeline.
Keystone XL would have moved as many as 830,000 barrels of oil a day over 1,700 miles from the oil sands in western Canada through six US states to Steele City, Nebraska, where it would have linked with existing infrastructure to bring the oil to refineries on the Gulf Coast.
You can share this story on social media: