Fast food exposes eaters to harmful industrial chemicals – study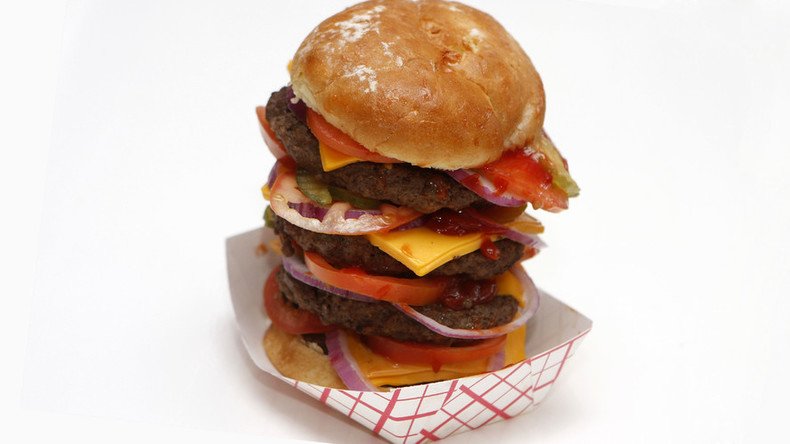 Fast food contains an "alarming" amount of potentially toxic industrial chemicals like phthalates, according to a new study that links high fast-food consumption with increased levels of the harmful, non-natural substances.
People who said they consumed more fast food were exposed to higher levels of phthalates – chemicals found in processed foods and consumer-product packaging that have been linked to infertility, especially in males – according to researchers at George Washington University's Milken Institute School of Public Health.
"People who ate the most fast food had phthalate levels that were as much as 40 percent higher," said study lead author Ami Zota, an assistant professor of environmental and occupational health at Milken Institute SPH. "Our findings raise concerns because phthalates have been linked to a number of serious health problems in children and adults."
The researchers gathered data from federal nutrition surveys taken by about 9,000 people between the years 2003 and 2010. The surveys detailed diet choices in the previous 24 hours, as well as results of concurrently gathered urine samples. The researchers found that one-third of the subjects reported consuming fast food in the 24 hours prior to the urine samples. Those participants tended to show much higher levels of two phthalates, DEHP and DiNP.
Zota and the research team found that the more fast food consumed, the higher the exposure to phthalates. Those consuming the most fast food showed 23.8 percent more DEHP in their urine, and nearly 40 percent more DiNP metabolites compared to those who did not consume fast food in the previous 24 hours.
Grain and meat items were the top contributors to phthalate exposure, the researchers found.
"We're not trying to create paranoia or anxiety, but I do think our findings are alarming," said Zota, according to the Washington Post. "It's not every day that you conduct a study where the results are this strong."
DEHP and DiNP are used in a variety of products and packaging, including cosmetic items and toys. Used in industrial food production, they can leach into consumable substances. DEHP exposure has been linked to diabetes, allergies in children, and negative child behavior, among other conditions. In 2008, some phthalates, including DEHP, were banned in the US for the production of children's toys.
"Phthalates are chemical plasticizers that are often used in the production of many types of plastics," the US Consumer Product Safety Commission says. "Phthalates most often, but not always, are used to make plastics softer and/or more pliable."
Zota said the the study took into account the participants' background and other factors that could have exacerbated the findings.
"We looked at it in so many different ways, and the effect still remains," said Zota.
The study did not find that high fast-food intake was associated with increased levels of BPA (bisphenol-A), a chemical used in plastic food packaging. Yet the study did find that participants who ate fast-food meat products had higher levels of BPA than those who did not eat fast food.
"I really hope this study helps raise public awareness about the exposure problems caused by our industrialized food system," said Zota.
The findings were published in the journal Environmental Health Perspectives.
You can share this story on social media: