Sanders now leading Clinton in national poll ahead of Vatican visit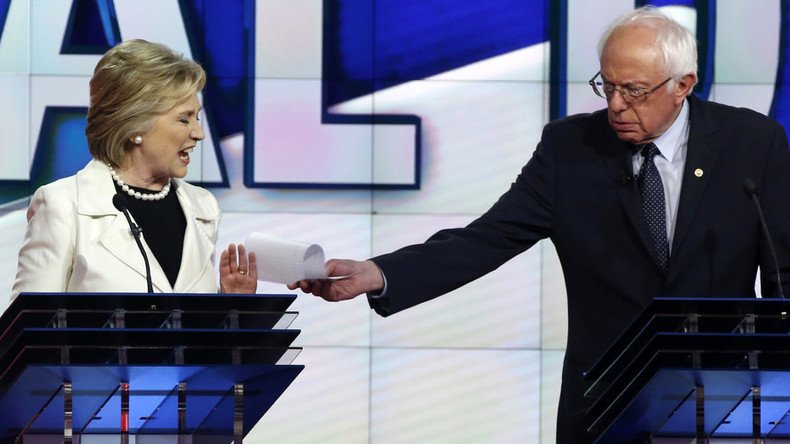 Democratic presidential candidate Bernie Sanders has now passed his opponent Hillary Clinton in a new national poll released the same night as their big debate in New York.
Just days before the crucial primary, the Reuters/Ipsos poll shows Sanders topping Clinton by one point among 635 registered Democratic voters, 49 percent versus 48 percent.
Among all Democratic and Democratic-leaning independent voters, Sanders has a bigger lead of 47-42 and crushes Clinton by 16 points among self-identified independents.
Eleven percent of participants said they wouldn't vote for either.
The survey took place between April 9-13, before their heated televised showdown on Thursday and the Vermont senator's trip to the Vatican to talk about global poverty with the presidents of Ecuador and Bolivia, among others.
The presidential hopefuls held nothing back in their final debate before Tuesday's New York primary, which Clinton needs to win to offset the current Sanders winning streak.
READ MORE: Sanders homecoming: New York native returns to old neighborhood days before primary (VIDEO)

The pair clashed on topics ranging from Wall Street, gun control, and the minimum wage. At one point, moderator Wolf Blitzer from CNN warned them, "If you're both screaming at each other, the viewers won't be able to hear either of you."
Hillary is on it tonight. Ready and prepared for every Sanders attack.

— Chris Cillizza (@TheFix) April 15, 2016
That Israel exchange shows a core Clinton truth: she'll take any position if politically advantageous (then apologize when the polls change)

— Glenn Greenwald (@ggreenwald) April 15, 2016
Blitzer may have been overcompensating for the criticism he received after moderating a Republican debate in February, which also featured a lot of "screaming at each other".
"By the end, he seemed to have completely ceded control of the debate," wrote Slate's Isaac Chotiner. "Blitzer's questions were soft, and his follow-ups indirect…it was a failure of hosting."
While a quick trip to the Holy See might seem like it's taking Sanders away from the campaign trail at a critical time, he's hoping to appeal to millions of Catholic voters in New York, who make up 38 percent of the state's population.
READ MORE: Clinton campaign taps ex-Goldman Sachs partner for Asian fundraisers
Sanders previously praised Pope Francis for his "radical" views about "some of the most important [issues] facing our world."
You can share this story on social media: