Sanders homecoming: New York native returns to old neighborhood days before primary (VIDEO)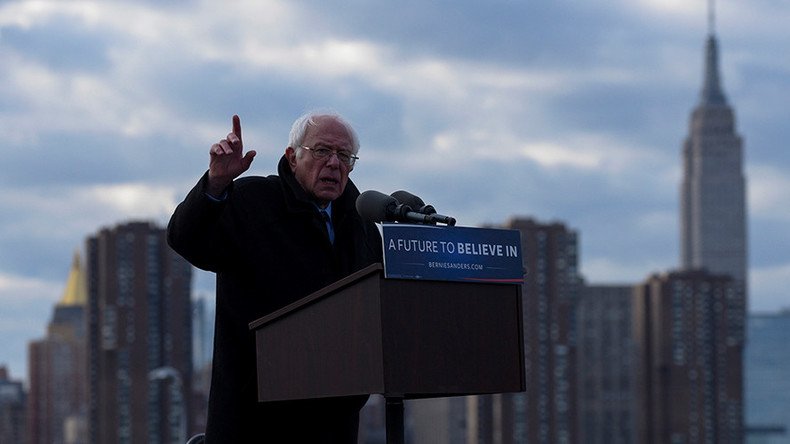 Democratic presidential candidate Bernie Sanders is disproving the old saying "you can't go home again" by campaigning in his native state of New York, including his old Brooklyn neighborhood.
Just ten days before New York's April 19 primary, Sanders spoke at a rally in Washington Heights in northern Manhattan Saturday.
Sanders discussed healthcare, pointing out that the in US people "still believe it's a radical idea that all people have healthcare."
"In my view, healthcare is a right of all people not a privilege," Sanders said to enthusiastic applause.
Sanders also mentioned the fact that one fifth of Americans cannot afford to fill the prescriptions they get from the doctor. "We've got this absurdity of the drug companies ripping off the American people in an absolutely unconscionable way. Insane, totally crazy."
"The question isn't how we do it, the question is do we have the guts to take on the drug companies and the private insurance companies," he said to another burst of applause.
Sanders discussed concerns of the Latino community and about the 11 million undocumented workers in the US, many of whom are being exploited. He called for "comprehensive immigration reform," promising, "If Congress does not do its job I will use the executive powers of the presidency to do everything that I can."
Touching on the concerns of the African American community, he asked, "how does it happen that we have trillions of dollars to spend on a war in Iraq we never should have gotten into, but apparently we just don't have the funds to rebuild inner cities and education in this country?"
Sanders promised to change the relationship with the Native American community "to whom we owe so much," and called on his supporters to "think big not small. Do not accept the status quo."
Sanders finished by explaining why Donald Trump's campaign of insulting minorities would not see him become president, and highlighting the strength in bringing people together, rather than dividing them.
The Washington Heights rally was one of four Empire State events on Saturday for the surging candidate in addition to the Apollo Theater in Harlem, Long Island City, and University Heights.
Sanders hit the streets of Brooklyn Friday and held a rally outside his old apartment building on 26th Street in Midwood.
Supporters queued around the block in the hours leading up to his rally and the candidate was introduced by actor Mark Ruffalo, who said he was "one of us."
"We can win this primary. If we win here, we're going to win other states. New York will help us make it to the White House," Sanders said.
His other Friday rally was in the hipster neighborhood of Greenpoint where actor Susan Sarandon called him a "consistent moral compass."
New York's primary has 247 pledged delegates up for grabs.
While the Vermont senator was born and raised in Brooklyn before going to school at the University of Chicago, Hillary Clinton grew up in the suburbs of Chicago and moved to the rich New York suburb of Chappaqua after her husband's presidency and eventually became a US Senator for the state, despite allegations of "carpetbagging."
Sanders is closing the gap according to the latest polling, just 13 points behind Clinton after initially trailing by 40.
Clinton rode NYC's subway for the cameras Friday and then the "Butcher of Benghazi" stopped by Charlie the Butcher in Buffalo.
She will hold a Latino organizing event in Sunset Park on Saturday evening.
The two Democrats will debate next Thursday and then Sanders will head to the Vatican, where he was invited to meet the Pope to talk about global poverty, while Clinton will attend a number of fundraising events with tickets at more than $2,000 per person.
The not-so-pivotal Wyoming caucus takes place on Saturday, although a win for either candidate could boost momentum for the New York primary. Fourteen delegates are up for grabs in the country's least populated state.
You can share this story on social media: