Transit union & senator back Sanders ahead of New York primary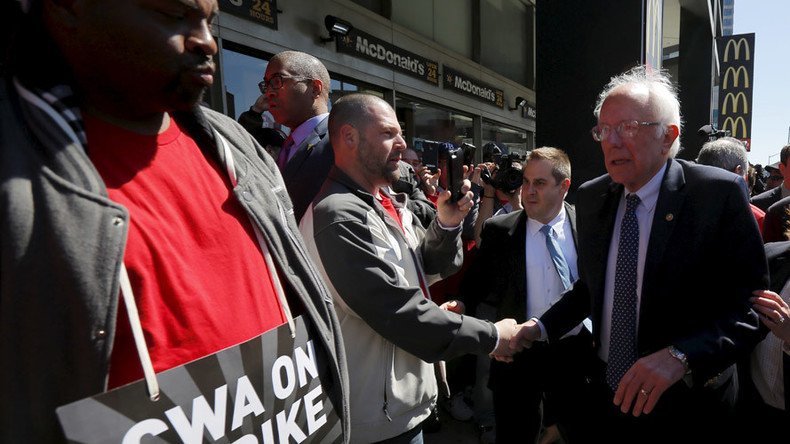 Though still trailing behind Hillary Clinton in the race for the Democratic presidential nomination in the state they have both called home at some point, Bernie Sanders picked up endorsements from a New York transit union and a Senate colleague.
On Wednesday, the Brooklyn-born Sanders announced the endorsement of Transport Workers Union Local 100, representing some 42,000 workers in the greater New York region. Earlier in the day, he visited a picket line of Communications Workers of America, on strike against Verizon.
"We've got to stand together, take on the big-money interests and make it clear that our government works for all of us, not just the 1 percent," Sanders said, calling unions the "last line of defense" against corporate greed in America, according to Reuters.
The Vermont Senator also picked up his first endorsement from a colleague. Senator Jeff Merkley of Oregon publicly praised Sanders for battling economic inequality, fighting for the middle class, and opposing bad trade deals.
"It is time to recommit ourselves to that vision of a country that measures our nation's success not at the boardroom table, but at kitchen tables across America," Merkley wrote in a New York Times column. "Bernie Sanders stands for that America, and so I stand with Bernie Sanders for president."
Sanders is still facing an uphill battle in New York, though. Polls show Hillary Clinton, who served as the state's Senator between 2001 and 2009, at 13 points ahead with less than a week left before the April 19 primary. Clinton also picked up a union endorsement Wednesday, from Local 3 International Brotherhood of Electrical Workers, representing more than 27,000 workers in the New York City area.
She was also endorsed by the New York Daily News. The left-leaning paper called her a "superprepared [sic] warrior realist" who "fully understands the toll that adverse economic forces have taken on the country," while blasting Sanders as a "fantasist who's at passionate war with reality."
Pitching her candidacy at the American Federation of Labor and Congress of Industrial Organizations (AFL-CIO) convention last week, Clinton argued that she has practical plans to help the American workers, while "in a number of important areas, [Sanders] doesn't have a plan at all."
"Here's my promise to you: If I'm fortunate enough to be elected president, organized labor will always have a champion in the White House and a seat at the table," she said.
While the AFL-CIO has refrained from endorsing either candidate, 23 national unions lined up behind Clinton in February, including the American Federation of Teachers, International Longshoremen's Association, and the Service Employees International Union.
The American Federation of Government Employees (AFGE) likewise endorsed Clinton last year.
National Nurses United endorsed Sanders in August last year, while the National Border Patrol Council broke tradition and defied AGFE – its parent organization – last month to endorse the Republican front-runner, Donald Trump.
You can share this story on social media: