Virginia governor vetoes plan for return of compulsory electric chair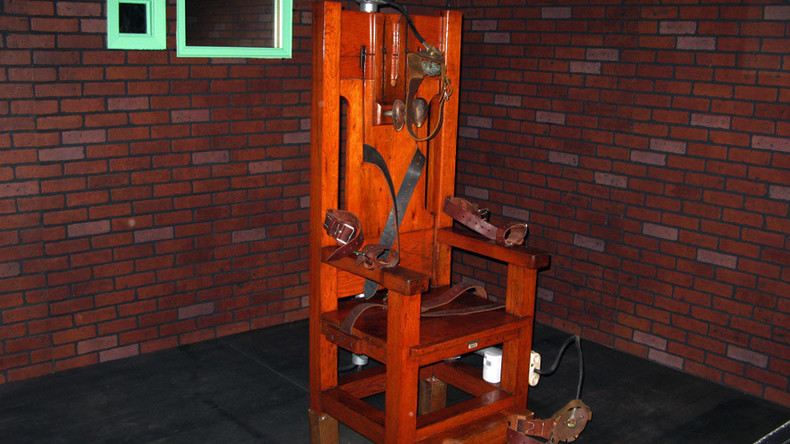 Virginia Governor Terry McAuliffe has vetoed a controversial bill that would have made death by electric chair compulsory for those facing capital punishment in his state if lethal-injection drugs are unavailable.
The legislation was passed by state lawmakers in a tight 22-17 vote this March amid a nationwide shortage of lethal-injection drugs.
McAuliffe had until the end of Sunday to veto the new bill. Abstaining from making a decision meant the law would come into effect as planned on July 1.
The eleventh-hour amendment by the governor instead allowed the state of Virginia to hire a pharmacy to produce the drug for executions in secrecy, The Washington Post reported.
The names of the pharmacies and any other data through which they could be identified "shall be confidential, shall be exempt from the Freedom of Information Act... and shall not be subject to discovery or introduction as evidence in any civil proceeding unless good cause is shown," the amendment read.
A similar bill was backed by Democratic governor McAuliffe last year, but it failed to become law due to controversy over the secrecy provisions for pharmacies.
The Virginia legislature, which is controlled by the Republicans, will vote to accept or reject McAuliffe's amendment on April 20.
Currently, Virginia death row inmates have the choice of whether to be executed by electric chair or lethal injection. Virginia is one of at least eight states in the US that allow electrocutions.
Drug manufacturers have protested the use of their drugs in executions, forcing many states to pass laws bringing back other methods that can be legally used when the drugs are difficult to obtain, such as electrocutions and firing squads.
Last April, Oklahoma became the first state to legalize the use of the gas chamber if lethal-injection drugs were not available.
READ MORE: US among world leaders in death penalty, surpassed only by Saudi, Iran & Pakistan – Amnesty
The impending execution of convicted murderer Ricky Gray in Virginia has triggered the majority of support for the new bill, as the state has said it does not have a supply of drugs to put him to death.
Virginia's history of electric chair use has also drawn allegations of racial profiling. It was first used in the state in 1908 to execute a black man found guilty of raping a white woman. Since that date, 217 of the 267 convicts electrocuted have been African Americans.