US among world leaders in death penalty, surpassed only by Saudi, Iran & Pakistan – Amnesty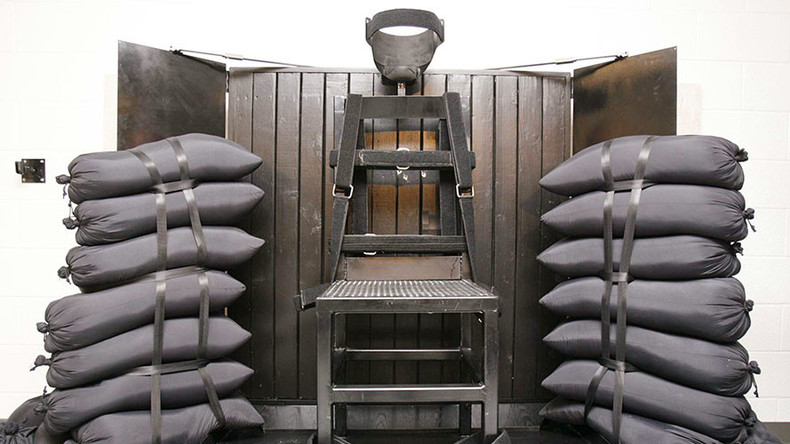 With 28 killings in 2015, the US is the only country in the Americas and among OSCE members to be on the list of top executioners published by Amnesty International, coming right after Saudi Arabia, Iran and Pakistan.
At least 1,634 people were put to death in 25 countries in 2015, Amnesty International said. Saudi Arabia, Iran and Pakistan account for nearly 90 percent of those.
The US, it appears, had more executions than Iraq last year – 28 in six states: Texas (13), Missouri (6), Georgia (5), Florida (2), Oklahoma (1) and Virginia (1).
Last year, at least 2,851 people were under sentence of death in America, including 746 in California, 389 in Florida, 250 in Texas, 185 in Alabama and 181 in Pennsylvania, according to the report.
"While the 2015 figure was the lowest number of executions recorded in a single year since 1991, the decrease was in part linked to legal challenges that resulted in the revision of lethal injection protocols or problems faced by states in obtaining lethal injection chemicals," the human rights watchdog explained.
Thirty-two US states still retain the death sentence. Texas carried out almost half of all executions in 2015.
The state of Virginia carried out its first execution since 2013, while two states – Arizona and Ohio – had to put executions on hold because of issues concerning lethal injections.
"The USA continued to use the death penalty in ways that contravene international law and standards, including on people with mental and intellectual disabilities," Amnesty said in its annual report on the use of capital punishment.
Amnesty cited the case of Warren Hill, who was executed by the state of Georgia despite the fact that all experts who had assessed him, including those provided by the state, agreed that he had an intellectual disability. "His execution amounted to the arbitrary deprivation of life in violation of Article 6 of the ICCPR [the International Covenant on Civil and Political Rights], to which the USA is a state party," Amnesty said.
The report also mentioned the case of the 74-year-old Cecil Clayton, who was diagnosed with dementia and a psychotic disorder, but was executed in Missouri in March.

In August the governor of North Carolina signed into law House Bill 774, aimed at the resumption of executions in the state. The law allows for the participation of medical professionals other than a physician in executions, against ethical codes relevant to the profession, the report said, adding that it also allows the authorities to keep confidential any identifying information of any person or entity involved in the manufacture, preparation or supply of drugs used for lethal injection. Legislators in Texas also voted in favour of a law to allow for secrecy on the providers of chemicals, Amnesty said.
Pre-trial proceedings against six detainees at the US naval base at Guantanamo, Cuba, did not go unnoticed. The US government intends to seek the death penalty if convicted for all six men, five of whom were charged with plotting the 9/11 attacks. "Proceedings before the military commission do not meet international fair trial standards and the imposition of the death penalty in their cases would constitute arbitrary deprivation of life," Amnesty stressed in the report.

Huge increases in killings in Saudi Arabia

Saudi Arabia executed at least 158 people (four women and 154 men), the highest number of executions recorded in the country since 1995, Amnesty International said. Eighty-four of the executions were for murder, 64 for drug-related offences, six for kidnapping, torture and/or rape, and four for armed robbery.

"Saudi Arabia continued to carry out executions, mostly by beheading but some also by a firing squad, in public and, in some cases, to display executed bodies after death in public," according to the report. The authorities often failed to inform those under sentence of death and their families of their imminent execution or to return the bodies of those executed to their families, Amnesty said, adding that the situation was plagued by the "flawed nature of Saudi Arabian legal and judicial safeguards." According to the report, the authorities frequently failed to apply both national laws and international human rights law standards during trials, and commonly denied detainees the right to a lawyer and to a meaningful appeal. "One of the most significant concerns remained the fact that 'confessions' extracted under torture, duress or coercion were often the sole evidence in death penalty cases."
Saudi Arabia continued to use the death penalty disproportionately on foreign nationals, the majority of whom were migrant workers with no knowledge of Arabic (the language in which they were questioned while in detention and in which trial proceedings were carried out). Foreign nationals were often denied adequate interpretation assistance. Their country's embassies and consulates were not promptly informed of their arrest, or even of their executions. In 2015, 73 out of the 158, or 46 percent, of executions recorded by Amnesty International in Saudi Arabia were of foreign nationals.

Executions in Asia-Pacific

Amnesty International reported a "sharp increase" in the number of recorded executions in the Asia-Pacific region, with Pakistan accounting for as much as 89 percent of the total (excluding China). Bangladesh, India and Indonesia resumed implementation of the death penalty in 2015, raising the number of executing countries from 9 in 2014 to 12 in 2015.
The human rights watchdog said it received credible information indicating that Pakistan executed at least five men who were under 18 years of age at the time of the crime. "Pakistan carried out executions at an alarming rate in 2015, joining the leading executioners China and Iran."
Amnesty recorded 326 executions, including 305 for murder in the South Asian country last year. Pakistan had lifted a moratorium on executions in December 2014 to allow for executions for terrorism-related offences. Many of those executed in 2015 had been convicted by the so-called Anti-Terrorism Courts, Amnesty said.
China remained the world's top executioner, according to Amnesty International. Although it was not possible to establish specific figures for executions there, given the classification of death penalty figures as state secrets, the report said executions in the country were still in the thousands in 2015.
Three executions were carried out in Japan last year, the same number as in 2014. The authorities continued to implement death sentences in secret, announcing executions only after they had occurred, Amnesty said.
At least seven new death sentences were imposed in Thailand. The Department of Corrections reported that at the end of the year 413 people were on death row, of whom 55 percent had been convicted of drug-related offences. This percentage is much higher among the female death row population, where 80 percent of the 50 women under sentence of death had drug-related convictions.
Capital punishment in the Middle East

Egypt executed at least 22 people in 2015, and courts in the country sentenced at least 538 people to death. Many of the death sentences followed trials that were unfair, Amnesty said.
Iran carried out at least 977 executions in 2015. The Iranian authorities announced 400 executions through official and semi-official sources. "However, credible sources confirmed that at least 577 more executions took place, in addition to those officially announced," the report said, adding that at least 16 women and at least four juvenile offenders were executed. At least 58 executions known to Amnesty International were carried out publicly. The majority of executions carried out in 2015 were for drug-related offences. At least 160 juvenile offenders were on death row at the end of 2015. Some of them had been in prison for more than a decade, according to the report.
At least 26 executions were carried out in Iraq, three of which took place in the Kurdistan Region. These were the first executions carried out in the Kurdistan Region of Iraq since 2008, Amnesty said. At least 89 death sentences were imposed for offences that included terrorism, murder and kidnapping. Those sentenced to death were mostly Iraqi nationals but also included some foreign nationals.
You can share this story on social media: