B-B-B-Bernie and the Pope: Sanders to speak at the Vatican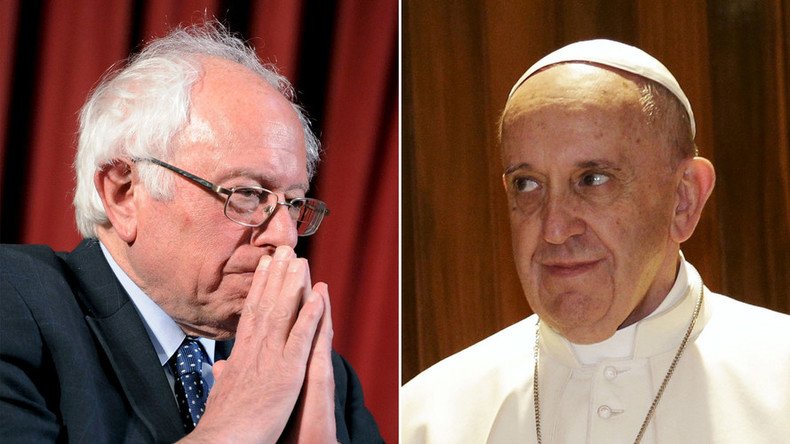 Democratic presidential candidate Bernie Sanders, who says he is a "big, big fan" of Pope Francis, has accepted an invitation to speak at a conference on economic, environmental and social issues at the Vatican on April 15.
Sanders will head to Rome after his April 14 debate in Brooklyn, New York, with fellow Democratic candidate Hillary Clinton ahead of the Empire State's presidential primary, which is scheduled for April 19.
The senator from Vermont will speak at a conference hosted by the Pontifical Academy of Social Sciences.
"I was moved by the invitation, which was just made public today," Sanders said during an interview with MSNBC's 'Morning Joe.' "I'm a big, big fan of the Pope. Obviously there are areas where we disagree on—women's rights or gay rights—but he has played an unbelievable role, an unbelievable role of injecting a moral consequence into the economy."
Sanders has campaigned heavily on economic issues, excoriating Wall Street and its handmaidens in government for a "rigged" system that is designed to "benefit the wealthiest Americans in this country at the expense of everyone else."
"Greed, fraud, dishonesty and arrogance, these are the words that best describe the reality of Wall Street today," Sanders said in January.
Sanders, who is campaigning to become the first Jewish president in US history, said he will speak in Rome about creating a "moral economy" and about dealing with the effects of climate change, subjects also important to the pope.
"I think the Vatican has been aware of the fact that, in many respects, the pope's views and my views are very much related," Sanders said Friday. "He has talked in an almost unprecedented way about the need to address income and wealth inequality, poverty and to combat the greed that we're seeing all over this world, which is doing so much harm to so many people. … For me, it is an extraordinary honor to receive this invitation."
Sanders said he does not yet have plans to meet with Pope Francis during the visit, but would "very much like to," the Associated Press reported.
Sanders' appearance in Rome will take him away from the campaign trail in New York, where he and rival Hillary Clinton have battled to win a state that is considered a top prize for national Democratic candidates.
New York was the fifth-most Catholic state in the US by percentage of population, a February 2014 Gallup survey found.
Pope Francis has said that the "powerful of the earth" will face the wrath of God if they don't protect the environment and care for those with much less. His June 2015 encyclical on climate change was a blunt call for an end to rapacious practices that prioritize "speculation and the pursuit of financial gain" over the needs of all.
"There are people who think that Bernie Sanders is radical," Sanders said Friday on MSNBC. "Read what the pope is writing."
You can share this story on social media: