USAF general says F-35 appearance at air shows will be 'deterrent'
Simply by appearing at two UK air shows this summer, four US F-35 fighters will help encourage NATO allies and deter Russia, a senior US Air Force general argued. This is despite the advanced jet's many software and hardware problems.
Appearances at the Royal International Air Tattoo (RIAT) and Farnborough air shows in July are part of the Pentagon's promotional blitz of showing off the F-35 at a dozen air shows, which began on April 2 at the Luke Air Force Base in Nevada. With the exception of the two UK venues, all other appearances will be inside the US.
Showing off the F-35 would "in itself help" the US reassure its European allies by demonstrating "credibility, capability and willingness," General Frank Gorenc, NATO commander and head of the US Air Forces in Europe (USAFE) said at an event in Washington, DC this week.
Though Gorenc did not mention Russia in the same breath as the F-35, he did bring up the topic of deterrence in the context of Russia's air defense systems.
"From the Barents to the Baltics to the Black Sea now to the Mediterranean, we see a continual movement of the development of modern, long-range, layered surface-to-air missile systems that would counter and create uncertainty for freedom of movement in the areas covered by those systems," Gorenc said at the Defense Writers Group event, according to Defense News.
READ MORE: Pentagon's F-35 stealth jet can't win dogfight – report

The Pentagon apparently hopes the mere sight of four F-35s – two Air Force F-35A models and two F-35B models belonging to the US Marine Corps – will impress NATO allies and intimidate the Russians. The jets are supposed to take part in exhibition flights with vintage fighters and with the Royal Air Force (RAF) Red Arrows, while the USMC F-35s may even demonstrate a vertical landing, Defense News reported.
Read more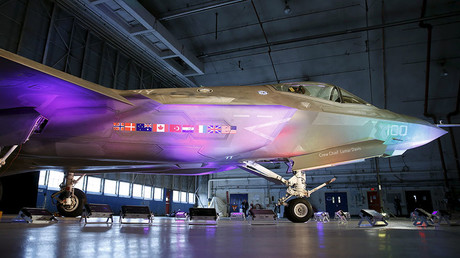 Seeing the F-35 at an international air show will reinforce the notion that the jet is no longer a concept, but "a real piece of equipment," Gorenc explained.
"It's real, we have thousands of hours already, in fact, my-son in-law flies F-35s, so it's real," the general said.
The F-35 is a very real expense, with the price tag in excess of $100 million per plane and the entire program projected to cost between $1 trillion and $1.5 trillion. However, the troubles of Lockheed Martin's futuristic fighter are legion.
The Pentagon's own director of testing and evaluation testified last month that the F-35 has "many unresolved significant deficiencies" – 931 that are documented, anyway – of which 158 are serious enough to cause death or severe injury. The software used by the Air Force version is so buggy, pilots have had to restart the plane's radar mid-flight.