Plagued by problems, F-35 nowhere near ready to fly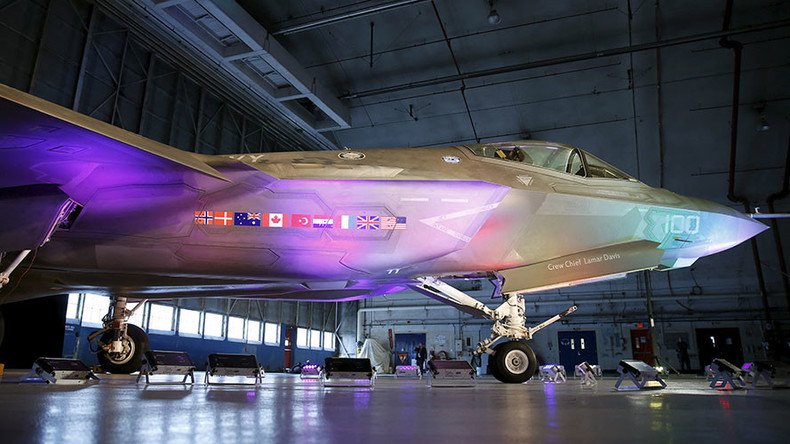 The F-35 Joint Strike Fighter is the Pentagon's great stealth hope for the future of air combat. With the most recent software failures, however, US officials are voicing concerns about the program, which is estimated to cost $1 trillion over its lifetime.
The fighter jet "remains immature and provides limited combat capability," Michael Gilmore, the Pentagon's director of operational test and evaluation, told the House Armed Services Committee on Wednesday, adding that the F-35 has "many unresolved significant deficiencies."
Gilmore reported that the F-35's latest operating system has 931 open documented deficiencies, 158 of which are Category 1 – classified as those that could cause death, severe injury, or severe illness. He called the current testing and deployment schedule "unrealistic" and estimated that the software won't be ready before late 2018.
Of particular concern is the fighter's onboard computer, known as the Autonomic Logistics Information System (ALIS). When the latest version of the software was delivered for testing last month, "it was so unstable that productive flight testing could not be accomplished," Gilmore testified. A scheduled electronic warfare mission that was to involve four F-35s with Block 3F software was cancelled when only two managed to make it to the range. The other two planes never took off, "due to avionics stability problems during startup."
Three out of five F-35s currently considered operational have been grounded due to software problems, Gilmore explained. There are mechanical problems too – notably, the ejector seat that may kill pilots weighing less than 136 pounds (62 kg) and has "serious problems" with those weighing over 165 pounds (75 kg). For pilots weighing anywhere in between, about a quarter of all aviators, the evaluators estimated a 23 percent probability of death during ejection, and a 100-percent probability of neck injury.
Air Force Lieutenant-General Christopher Bogdan, the leading officer on the F-35 program, defended the troubled jet, arguing that developmental testing was "progressing steadily." He gave the odds of pilots suffering a neck injury at 1 in 200,000.
"Our overall assessment is that the program is making solid progress across the board and shows improvement each day while continuing to manage emerging issues and mitigate programmatic risks. We are confident the F-35 team can overcome these challenges and deliver on our commitment," Bogdan told lawmakers.
Sean Stackley, Assistant Secretary of the Navy, came to Bogdan's aid, explaining that the F-35 software involved almost eight million lines of code and twice as many again on the off-board systems.
"This is an order of magnitude greater than any other aircraft in the world and represents a complex, sometimes tricky, and often frustrating element in the program," Stackley argued. While admitting that the current Block 3i and 3F software "are not as stable as they need to be," he noted that for each problem Gilmore pointed out, the program had "a dedicated effort underway to resolve or otherwise mitigate the issue."
"In the past, we have reported that ALIS software has not been delivered on time and has not functioned as expected when it is delivered,"said Michael J. Sullivan of the Government Accountability Office (GAO).
According to GAO, the F-35 program is estimated to cost around $1 trillion over its lifetime, "which poses significant long-term affordability challenges for the department." Between acquisition and maintenance, annual funding for the program may approach $30 billion in some years. The final GAO report on the program, including recommendations, will be out in April.
In the meantime, US military officers may well continue to pass out from having to deal with the F-35 – as Air Force General James F. Martin Jr. did last month.
You can share this story on social media: