Still terrible: Pentagon releases new list of F-35 program issues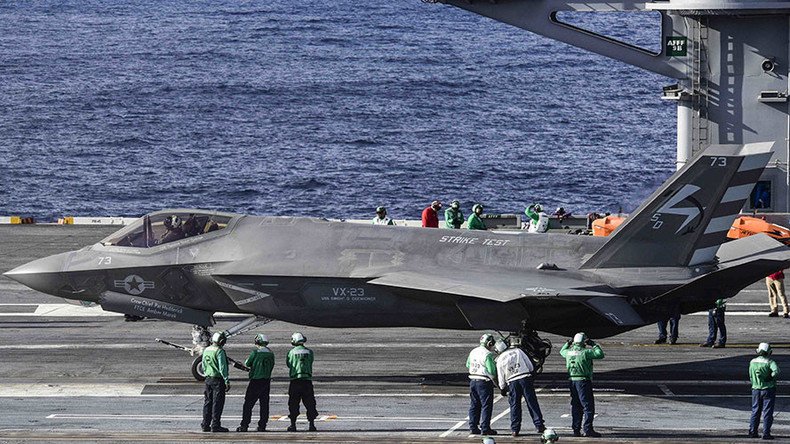 The F-35 fighter jet program has so far cost American taxpayers over $1 trillion but has given the Defense Department nothing but grief. Now a new Pentagon report shows further issues that complicate the ill-fated project.
The 82-page report released on Monday detailed an astounding number of deficiencies in the project, which is currently the most expensive in history. It raises questions about whether the Pentagon should initiate a three-year "block buy" of up to 450 F-35 Joint Strike Fighters beginning in 2018, something that it has suggested to Congress.
Engineers uncovered a series of flaws during testing of the new versions of the F-35, the report found. Previously known issues were also compounded by technical problems, software bugs and new cost overruns on a project that has already cost taxpayers $1.5 trillion.
Every one of the futuristic jet's systems is kept in operation by running on computers, resulting in many of the problems being caused by software glitches that less "futuristic" planes do not face. For example, the F-35 doesn't know whether it's using new or old parts, and doesn't know when it's moving too fast.
Perhaps even more worrying is the fact that all versions of the F-35 had an ejection system that could kill pilots who weighed under 136 pounds.
"Testing showed that the ejection seat rotates backwards after ejection. This results in the pilot's neck becoming extended, as the head moves behind the shoulders in a 'chin up' position," the report reads.
The version of the F-35 used by the Marine Corps had bugs in just about every important system, resulting in "ambiguous threat displays, limited ability to respond to threats, and a requirement for off-board sources to provide accurate coordinates for precision attack."
The Air Force had problems particular to its variant of the F-35 as well, and its "inherited deficiencies" could force the service to delay the craft's release date past its deadline at the end of the year.
Air Force Lt. General Chris Bogdan, who is the top brass overseeing the F-35 program, said in a response to the report that all the issues addressed by it are in fact real. However, he says that the report "does not fully address efforts to resolve known technical challenges and schedule risks," and that the point of testing it is to discover and fix these kinds of issues.
"As a reminder, the F-35 program is still in its developmental phase. This is the time when issues are expected to be discovered and solutions are implemented to maximize the F-35's capability for the warfighter," the general said. "While the developmental program is 80 percent complete, we recognize there are known deficiencies that must be corrected and there remains the potential for future findings. Our commitment to overcoming challenges is unwavering."
The project has been derided as a bonfire of taxpayer money almost since its inception in 2006, and many consider the costs sunk into the project to be too high to cancel it. As Lt. General Bogdan said in a 2014 interview with 60 Minutes, "I don't see any scenario where we're walking back away from this program."
You can share this story on social media: