Reboot required: US Air Force's F-35 has a radar problem
Published time: 12 Mar, 2016 02:12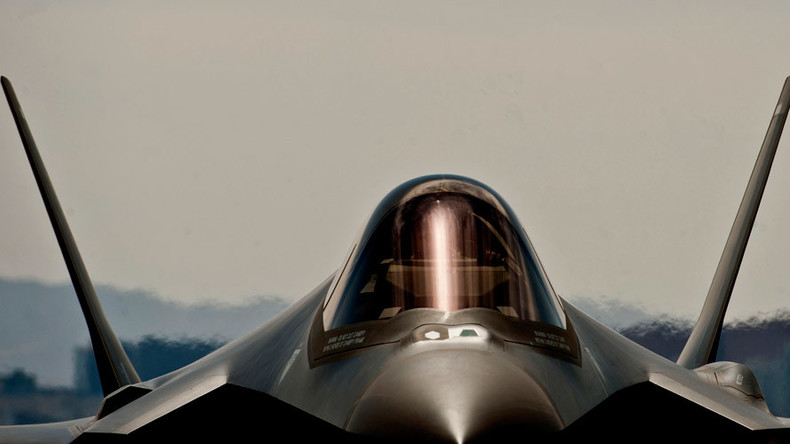 Plans to have the Air Force's version of the F-35 Lightning II operational sometime this year have hit yet another snag: A software glitch bedeviling the fighter's active radar system, requiring the pilots to restart it – sometimes even mid-flight.
Defense analysis publication IHS Jane's reported on the issue last week, though it first cropped up in tests in late 2015. The AN/APG-81 active electronically scanned array (AESA) radar system, built by Northrop Grumman, is simply unable to stay up and running in flight on board the F-35A fighters, according to Air Force officials.
"What would happen is they'd get a signal that says either a radar degrade or a radar fail – something that would force us to restart the radar," Major General Jeffrey Harrigian, director of the USAF's F-35 integration office at the Pentagon, told Jane's. He described the problem as "radar stability."
Lockheed Martin, the principal contractor on the F-35 and Northrop's rival in the field of aerospace technology, has identified the glitch in the i3 software and is working to fix it by the end of March, Harrigian added.
Pentagon admits more flaws in F-35. $1.5 trillion well spent?

Posted by RT America on Thursday, February 4, 2016
The Air Force was hoping to declare initial operational capability for its F-35A between August and December of this year. The F-35B, the Marine Corps' version of the fighter, was declared operationally capable in June 2015. The Marines don't seem to be having any trouble with their radars, as they are using an earlier version of the software, Ars Technica reported.
Though the futuristic fighter is suffering from an entire laundry list of defects, the US military has already sunk hundreds of billions of dollars into its development and, as such, is adamantly refusing any suggestion that the program ought to be scrapped.
"As a reminder, the F-35 program is still in its developmental phase. This is the time when issues are expected to be discovered and solutions are implemented to maximize the F-35's capability for the warfighter," USAF Lieutenant General Chris Bogdan, the officer overseeing the F-35 program, said last month. "While the developmental program is 80 percent complete, we recognize there are known deficiencies that must be corrected and there remains the potential for future findings. Our commitment to overcoming challenges is unwavering."
However, a recent survey of defense spending conducted by the University of Maryland found that 54 percent of Americans favored getting rid of the F-35. Democrats and independents were overwhelmingly against the fighter, while Republicans narrowly supported it.