Clinton, Trump both losing to Sanders and Cruz in Wisconsin – polls
Whether they represent the establishment or not, the frontrunners for the Republican and Democratic nominations are both down in the polls heading into Tuesday's crucial Wisconsin primary.
Vermont Senator Bernie Sanders is ahead of former Secretary of State Hillary Clinton 49 percent to 47 percent, according to a new CBS News/YouGov poll released on Sunday. The two-point lead for Sanders is small, but represents a dramatic turn of events for the senator, considering that he was trailing last month.
Read more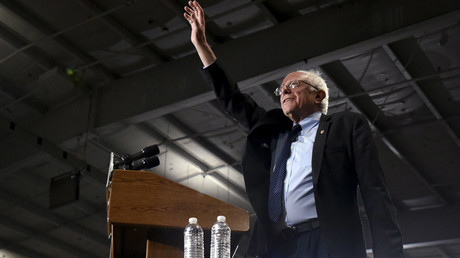 In another survey conducted by the Emerson College Polling Society, though, Sanders opened up eight-point lead against Clinton (51 percent to 43 percent) in the Badger State. Just two weeks ago, he was down six points with Clinton leading 50-44 percent.
Notably, 81 percent of Wisconsin Democrats called Sanders honest and trustworthy, while just 56 percent said the same of Clinton.
According to CBS, 54 percent Democratic voters want the next president to pursue more progressive polices than President Barack Obama, while 39 percent want similar policies to continue.
On the Republican side, Texas Senator Ted Cruz leads frontrunner Donald Trump 43 percent to 37 percent in the CBS poll. Ohio Governor John Kasich came in a distant third place with 18 percent. Meanwhile, the Emerson poll showed Cruz with a 40-35 percent lead over Trump.
Two weeks ago, Emerson's poll had Cruz ahead of Trump by just one point.
The CBS Poll, meanwhile, shows that Wisconsin Republicans are growing more willing to oppose Trump at a contested convention. Fifty-two percent said other Republicans should try to stop him from being nominated at the convention, while 30 percent said the GOP should rally behind the real estate mogul.
Trump has increasingly come under fire from numerous parts of the GOP – not to mention the Democrats – for since-retracted comments stating that women should be punished for getting an abortion, that he'd find the disillusion of NATO acceptable, and that Japan and South Korea should pursue nuclear weapons.
However, his distinct advantage in the delegate race means it is virtually impossible for Cruz or Kasich to take the nomination from him outright. Wisconsin is seen as a crucial state for Republicans hoping to deny Trump victory. If he loses the primary, he's far less likely to win the 1,237 delegates required to clinch the nomination and a contested convention becomes more probable.
But while Trump and Clinton may be down in Wisconsin, the latest CBS poll gives them the clear edge in other states. In New York, Clinton tops Sanders 53-43 percent, while Trump tops Cruz 52 percent to 21 percent for Cruz and 20 percent for Kasich.
In Pennsylvania, Trump is polling at 47 percent. Cruz and Kasich come in at 29 percent and 22 percent, respectively.