FDA sued over approval of genetically engineered 'frankenfish'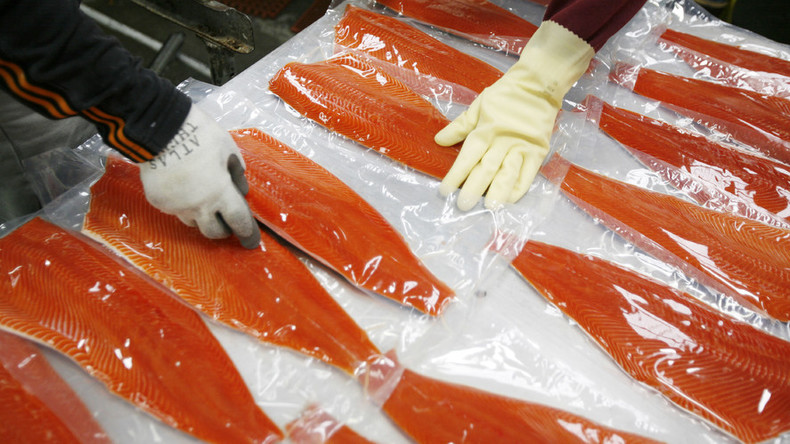 The US Food and Drug Administration is being sued by a coalition of environmental, fishing and consumer groups for its approval of genetically engineered salmon – the first such animal to ever be sold for commercial consumption.
The lawsuit announced Thursday challenges the FDA's power to approve the salmon, which can be grown twice as quickly as natural salmon. The plaintiffs, represented by the Center for Food Safety and by Earthjustice, argue that the agency doesn't have the power to approve and regulate genetically engineered (GE) animals as "animal drugs" under federal law.
"Those provisions were meant to ensure the safety of veterinary drugs administered to treat disease in livestock and were not intended to address entirely new [genetically engineered] animals that can pass along their altered genes to the next generation," said Earthjustice.
The agency's decision marks the first time in the world that a GE animal has been approved for commercial sale and consumption, and critics worry that the decision could lead to environmental catastrophe if the salmon crossbreed with native fish.
"FDA's decision is as unlawful as it is irresponsible," George Kimbrell, senior attorney for the Center for Food Safety, said. "This case is about protecting our fisheries and ocean ecosystems from the foreseeable harms of the first-ever GE fish, harms FDA refused to even consider, let alone prevent. But it's also about the future of our food: FDA should not, and cannot, responsibly regulate this GE animal, nor any future GE animals, by treating them as drugs under a 1938 law."
The FDA approved AquaBounty's modified salmon with some restrictions. The company can only grow the fish in pens that are secured against their escape into the wild, and they are only allowed to be raised in two land locations in Canada and in Panama, according to the agency.
In its approval announcement in November, the agency said that GE salmon from AquaBounty are "as safe to eat and as nutritious as food from other non-GE Atlantic salmon" and that there are "no biologically relevant differences in the nutritional profile of [the salmon] compared to that of other farm-raised Atlantic salmon."
Proponents of genetically engineering organisms argue that it leads to increased efficiency of food production. AquaBounty says that its new fish grow to market size using 25 percent less feed than normal Atlantic salmon.