#ArizonaElectionFraud: Secretary of State baffled by vote count fiasco (VIDEO)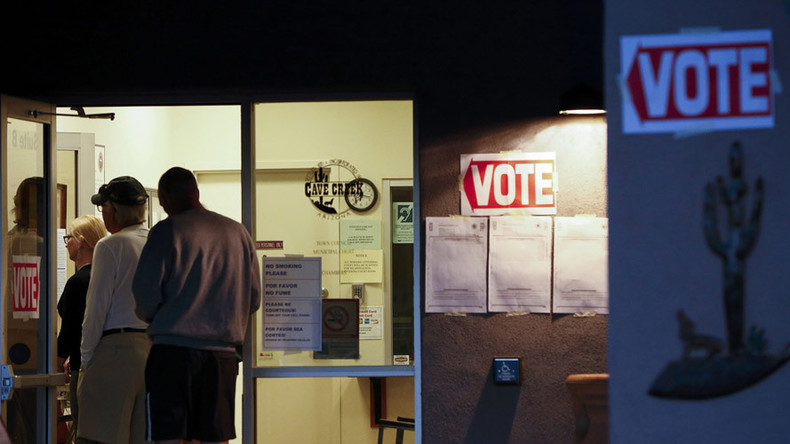 Arizona's Secretary of State Michele Reagan has admitted that thousands of voters were given provisional ballots which weren't counted in the state's primary on March 22.
Regan made the confirmation during a legislative hearing on the controversy Tuesday, after claims of election fraud from voters.
READ MORE: Showdown in Arizona: Voter-suppression hearing gets wild
Arizona operates a 'closed primary' system requiring pre-party registration from voters ahead of the election. Many voters had queued for hours on the day of the vote only to be told they couldn't vote in the presidential primary as they did not appear on the list of registered voters.
Thousands of other voters were given provisional ballots for the primary which were not counted as their party registration showed up in the system as "independent" or "no party declared".
"This is something that I know happens and I know it happened to people in this room," Regan said.
"It's not hearsay - it happened to someone in my own office. One of my employees was registered as a particular party, went to go vote, and I don't want to divulge his personal details, but it happened to him."
"So we know it happened," she added.
Reagan said the elections division were cross checking paper voter registration forms to find those who may have been affected, and are prioritizing people who cast provisional votes.
READ MORE: Phoenix mayor urges DOJ to probe Arizona primary after voters claim 'election fraud'
Chair Michelle Ugenti-Rita asked Regan if this has happened in previous elections.
Regan responded that "we've heard of this before but never to the level in this election".
She said an investigation will take place to determine if this happened as a result of a change in process or system or was it due to more interest in this presidential preference election.
However, this will not take place until the provisional ballots have been cross checked.
According to the official results, Donald Trump won the Republican Party's Arizona primary, while Hillary Clinton took the Democratic Party vote.
A White House petition calling on the Obama administration to investigate the situation has reached more than 210,000 signatures.
You can share this story on social media: