Phoenix mayor urges DOJ to probe Arizona primary after voters claim 'election fraud'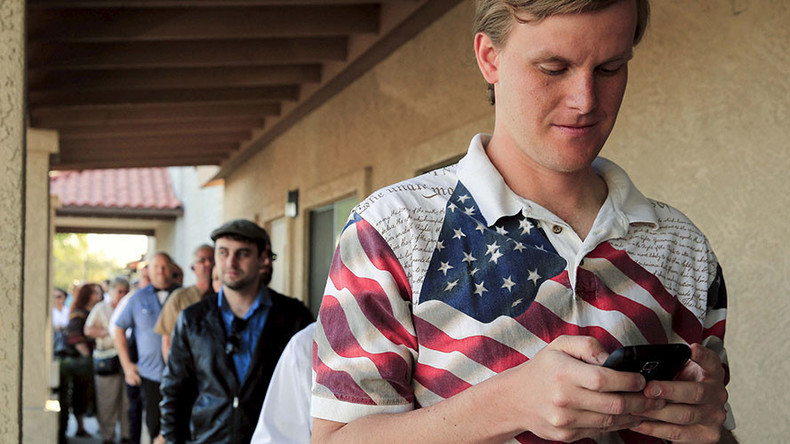 Phoenix's mayor is asking the Department of Justice to probe Arizona's recent primary after voters complained that long lines cost them a chance to cast their ballots. A supporting White House petition collected over 100,000 signatures in just two days.
"Throughout the county, but especially in Phoenix, thousands of citizens waited in line for three, four, and even five hours to vote," Mayor Greg Stanton wrote in a letter to Attorney General Loretta Lynch. "Many more simply could not afford to wait that long, and went home. This is unacceptable anywhere in the United States, and I am angry that County elections officials allowed it to happen in my city."
Stanton blamed the voting chaos on a "disparate distribution of polling stations," saying that some areas, especially those with higher minority populations, were lacking in voting sites.
According to the mayor, Maricopa County authorities cut the total number of polling places by 85 percent compared with the 2008 primary, and by 70 percent compared with the primary in 2012.
READ MORE: 'National disgrace': Barred voters, hours-long lines plague Arizona & Utah during 'Western Tuesday'
"In Phoenix, a majority-minority city, County officials allocated one polling location for every 108,000 residents. The rations were far more favorable in predominantly Anglo communities: In Cave Creek/Carefree, there was one polling location for 8,500 residents; in Paradise Valley, one for every 13,000 residents; in Fountain Hills, one for 22,500 residents; and in Peoria, one for every 54,000 residents," Stanton wrote.
Democratic presidential hopeful Bernie Sanders, who received almost 40 percent of the vote in Arizona, applauded the Phoenix mayor's request after emailing his supporters earlier this week, saying, "what happened yesterday in Arizona should be considered a national disgrace."
Sanders wrote that he had also "got an email last night from a woman who waited five hours to vote in Arizona. Five hours."
Voters have accused Arizona of election fraud and sabotaging the March 22 primary election. As thousands of complaints poured into social media, #AZElectionFraud began trending on Twitter on Thursday.
READ MORE: Primary preview: Presidential candidates battle for delegates in Arizona, Utah, and Idaho
Arizona Governor Doug Ducey tweeted that the delays were "unacceptable" and that the state's "election officials must evaluate what went wrong" to make sure it doesn't happen again.
"If people want to take the time to vote they should be able to, and their vote should be counted," Ducey wrote.
A White House petition urging the Obama administration to investigate the situation reached over 100,000 signatures, the minimum necessary to require a response, within two days of its March 22 launch.
You can share this story on social media: