Primary preview: Presidential candidates battle for delegates in Arizona, Utah, and Idaho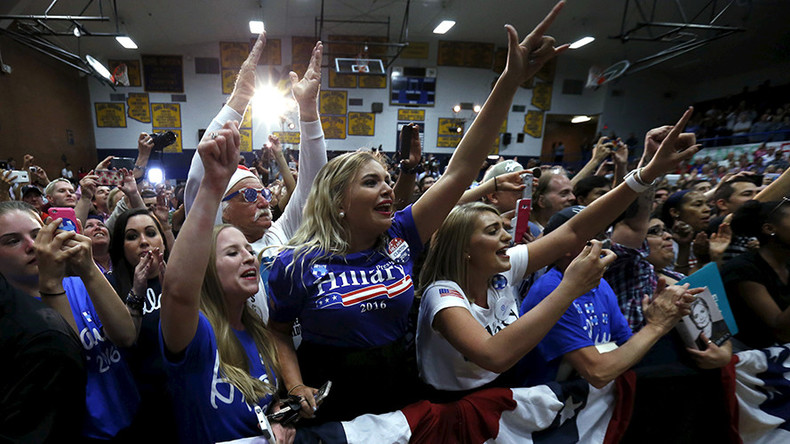 Bernie Sanders, Ted Cruz, and John Kasich all stand to gain momentum against presidential frontrunners Hillary Clinton and Donald Trump on Tuesday, even if they don't come in first place with Arizona, Idaho and Utah voters.
Hundreds of delegates are up for grabs, and it's possible that each presidential candidate will walk out of Tuesday with something to show for their efforts. On the other hand, billionaire businessman Donald Trump and former Secretary of State Hillary Clinton could conceivably create a sense of inevitability if they go undefeated.
Here is how each state is shaping up.
Arizona – 58 Republican delegates; 75 Democratic delegates and 10 superdelegates
A "winner-take-all" state for the Republicans, but a proportional one for Democrats, Arizona stands to be a state that could change the dynamic for underdogs as the national primary process enters its second half.
On the GOP side of the Grand Canyon State, Trump leads with 38 percent, followed by Texas Senator Ted Cruz with 25 percent, and Ohio Governor John Kasich with 14, based on the Real Clear Politics average of three March polls.
The Democratic race seems even more lopsided, with Clinton set to take 53 percent to Senator Bernie Sanders' 23, based on the Real Clear Politics average of one March poll and one February poll.
Arizona is the biggest contest for both political parties on Tuesday, March 22. It has, accordingly, seen big events, as well as big spending.
At least $1.5 million was spent on television ads by Sanders alone, according to the local Arizona Republic newspaper, as he needs an Arizona win to put Clinton back on her heels. One issue Sanders hopes to capitalize on is immigration, and he has teamed up with Arizona Congressman Raul Grijalva on a tour of the US-Mexican border in an attempt attract attention to this subject.
Trump is also highlighting his position on immigration, but in his case, for its toughness. He has, thus, been surrounding himself with hardliners such as Sheriff Joe Arpaio and former Arizona governor Jan Brewer for months. Meanwhile, Cruz took a tour of the border with former rivals turned supporters Carly Fiorina, ex-CEO of Hewlett-Packard, and Rick Perry, former governor of Texas.
Although immigration is also a dividing issue for Democrats, Clinton has taken the opportunity to promote her gun-control bonafides, releasing a TV campaign ad featuring former Democratic congresswoman Gabrielle Giffords, who nearly died in a shooting near Tucson in 2011.
Though clearly the underdog, with a lot of ground to make up, the Sanders' campaign shows no sign of giving up.
"We always knew this campaign was an uphill battle, and we knew the first half strongly favored Secretary Clinton," Arizona state director for Sanders, Jose Miranda, told the Arizona Republic. "As we enter into the second half of the primary campaign, we're heading toward a number of states that look favorable to Senator Sanders. There's a path for us to win the nomination, and it starts with a good showing in Arizona, Idaho, and Utah, the three states voting on March 22."
Utah – 40 Republican delegates; 33 Democratic delegates and 4 superdelegates
Utah is a majority-take-all state, meaning delegates will be proportionally distributed if no one receives over 50 percent of the vote, although a candidate must earn at least 15 percent to share in the distribution.
On the GOP side, Cruz is all but guaranteed victory, but whether he can reach 50 percent means a lot to his delegate strategy. Real Clear Politics has Cruz at 47.5 percent, Kasich at 21 percent, and Trump in an unusually distant third place with 16 percent, in danger of not winning any delegates, as Utah is a very conservative state and many have been put off by Trump's offensive demeanor and words.
Trump's enemies don't seem satisfied with his low position in the polls, however. The anti-Trump super PAC Make America Awesome purchased a Facebook ad campaign in an attempt to reach 10,000 voting age Mormons a day. An ad featuring a nude photo of Trump's wife, Melania, was even circulated on Monday.
Trump has answered with a $160,000 TV ad campaign branding "Lying Ted Cruz" as "just another all talk, no action politician," according to Politico.
Democratic polling in the Beehive state offers no help in predicting Tuesday's outcome. A March poll has Sanders leading Clinton 52 to 44 among likely voters, while a smaller February poll showed Clinton ahead 51 to 44, according to Real Clear Politics.
Idaho – 23 Democratic delegates and 4 superdelegates
It may not be big on delegates, but in the news cycle Idaho is an important state to win, especially for challengers in need of momentum. Because the state's voting begins after 7:00 in the evening, its results will be announced last, so who will get the final word?
Idaho Politics Weekly published a poll with a wide margin of error, nearly 10 percent, showing Sanders just slightly up, with 47 percent to Hillary Clinton's 45. That means it could be anyone's game, with delegates being handed out proportionally.
The fun for Democrats picks up again this Saturday, when they vote for their favorite candidate in Alaska, Hawaii, and Washington. The next Republican primary isn't until April 5 in Wisconsin.