'National disgrace': Barred voters, hours-long lines plague Arizona & Utah during 'Western Tuesday'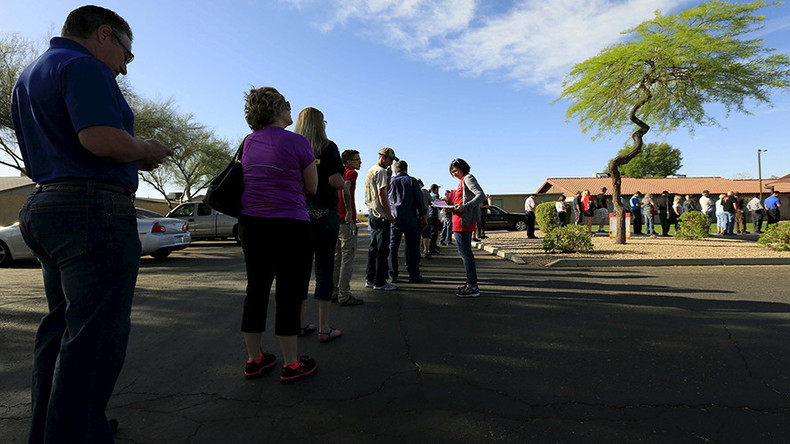 Tuesday's primaries and caucuses delivered victories for multiple candidates, but it was voters who suffered as hundreds of people waited for hours in long lines and other problems marred the day, particularly in Arizona.
In some cases, even those who ended up surviving the lengthy wait times may ultimately have their ballots rejected due to the fact that they weren't registered under the Democratic or Republican parties.
Arizona was the biggest prize on the table during Tuesday's election contests. Democrat Hillary Clinton and Republican Donald Trump walked away as the winners, but Maricopa County, home to the state's largest city in Phoenix, had wait times so long that some people simply gave up and went home without voting.
On Wednesday, Arizona Governor Doug Ducey called it "unacceptable" and proposed eliminating the closed primary in favor of an open one.
"I'm glad to see so many Arizonans step up to make their voice heard for the candidate of their choice. However, it's unacceptable that many of them had to battle incredibly long lines," he said. "Our election officials must evaluate what went wrong and how they make sure it doesn't happen again."
"One way we can fix things is to simplify them. That means allowing independents to vote in presidential primaries, just as they vote in all other Arizona primaries," he continued. "A big part of yesterday's problem was registered voters showing up, and being told they couldn't vote. That's just wrong. If people want to take the time to vote they should be able to, and their vote should be counted."
Polling places across the county featured scores of voters waiting in line for hours. Even after Trump and Clinton were both projected to win the state, hundreds of people waited more than four hours to cast their votes. Multiple sites had some 400 people in line.
At one location in downtown Phoenix, more than 700 people lined up to ensure they could vote after the station's 7 p.m. closing time. The final votes were not tallied until after midnight, the Arizona Republic reported.
Throughout the night, people stuck in line brought in chairs to help themselves make it through the ordeal. Others ordered pizza and had it delivered to the line, according to the Huffington Post.
The reason for the long waits? Maricopa County decided to dramatically cut the number of polling stations to 60, down from 200 four years ago, in an attempt to save money. There were 400 polling stations in 2008.
This year, Maricopa County had one station for every 21,000 voters, according to Arizona Republic data.
"Apache County had 41 polling locations for nearly 35,000 eligible voters," the news outlet reported. "Navajo County had 38 polling locations for roughly 42,000 eligible voters, Maricopa County 60 locations for 1.25 million voters."
Long lines weren't the only problem in Arizona, though. Since primaries in the state are closed, only registered Democrats and Republicans can vote in them. Tuesday saw a large number of independent voters come out to make their voices heard, including some who had wrongly stated they were registered to a party, causing problems when election staffers told them they were not allowed.
When independents refused to leave without voting, they were given provisional ballots. If the voter is found to not be a registered Democrat or Republican, however, their vote will not count.
The situation was bad enough Tuesday that Democratic presidential candidate Bernie Sanders called it "a national disgrace."
Arizona wasn't alone in having issues. In Utah, the Republican Party allowed some 59,000 registered voters to cast their ballots online, but many experienced technical problems when trying to do so. One resident told the Desert News that he could not move past the first page asking for identification, since the website produced error messages and said his information was incorrect.
"I must have tried eight or nine times without success," resident Greg Ericksen said.
According to the Washington Post, other people complained that the pages froze while some said they were confused by the web page setup.
Likely complicating the situation was that 10,000 people who applied to vote online were turned away because party officials couldn't confirm their IDs.